Marillion – Live At Cadogan Hall
aaamusic | On 28, Mar 2011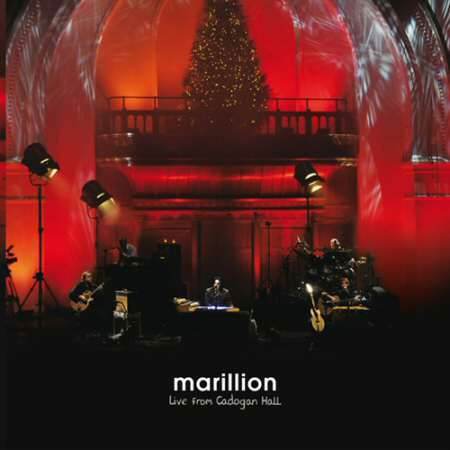 Stemming from the great British tradition of eccentricity, Marillion are now a great rock institution in their own esoteric, prog manner, and this release, recorded during their 'Less Is More' tour can only be described as an extravaganza, coming in Blu-Ray, DVD and CD forms, the latter being double-disc sets, released simply to celebrate existence and sheer creative drive.
The audio quality throughout is of chilling, crystalline clarity, every glockenspiel note picked out, every cymbal surging with grace, each guitar strum a cascade of sonic splendour. One would barely tell it's a live release on CD if it weren't for the enthusiastic applause after each song, and a small introductory speech for most songs, explaining their meanings. As a purely aural experience, it is fascinating, with each instrument played nearly flawlessly, and each song given a sense of its own individual power: the heady mystic undertones of the jangling 'Interior Lulu', the heart-capturing piano epic of 'Out Of This World', where tumbling bittersweet melodies are showcased alongside an emotive background of acoustic guitar and truly heartfelt vocals, each small inflection of which is recorded. The rasp might put some off, but such human aspects enhance rather than encumber the effect of the song, bringing a distinctly human touch to the almost inhumanly good musicianship on display.
The pacing of the set is likewise a work of artistic brilliance. The more straight-laced rocker 'Hard As Love', a piano-blues number with raw yet luxurious tones recalls any number of Led Zeppelin/Pink Floyd moments in its melodic choruses and uncanny valley melodic tweaks to blues scales leading to a cathartic, almost gospel climax, albeit with a marimba, is followed by the distinctly Marillion prog-rock strangeness of 'Quartz', which places aside the lush Western arrangements for a shimmer of xylophone/glockenspiel magic and clattering percussive dances, like an acoustic space-age tribal jam session between Syd Barrett and These New Puritans before it flourishes into walking basslines and bluesy guitar solos. Then we are treated to the tantalising grooviness of 'If My Heart Were A Ball' with its cheeky bassline and narcotic organs.
Disc 1 is a playing of their new album, and disc 2 is a greatest-hits, as it were, with each track given the same acoustic overhaul to create warm, soul-caressing renditions. For a tearjerker, the crooning 'This Train Is My Life', its piano/guitar skeleton given a gossamer skin of sober bass and magical glockenspiel is ideal, as it builds from a forlorn verse to swelling catharsis before dropping again to vulnerability only to climb once more. To chase this up, we have a beautiful, soaring rendition of 'You're Gone', the theatre acoustics of the venue lending a grand, almost religious intensity to the tone that is matched by the full passion the band pour into the track.
As for the DVD? Well, it might not be an adrenalin-packed thrill ride complete with arena-spectacular laser visuals, and I would say that it's something that's by and large for the fans. The clarity is as eerily realistic as the sound quality on the recordings, and the mood is quietly understated. The camerawork does get perhaps a little too fidgety, but it's shot with a heady level of professional and artistic care, each angle poised and fully advantageous. However, it is for all intents and purposes a low-key show, simply the band playing acoustically in a rather lovely setting. The uninitiated may be left slightly cool, but I am certain that such an intimate visual link to an emotional set by the band will move the hearts of fans to a much greater place as they can see the subtle intensity of emotion in the performers' expressions bathed in gently psychedelic lights.
This is a release that, sadly, will be overlooked by many in favour of more immediate shots of power. 'Live At Cadogan Hall' is not visceral or grabbing. However, for those who appreciate artistic prowess and true heart and soul, this is a gem of a recording in any format, and a triumph for Marillion as they soldier on, perhaps not as "out there" as other releases, but tireless and talented and worthy of a place in your heart and your shelves.
Author: Katie H-Halinski