Yellowcard – When You're Through Thinking, Say Yes
aaamusic | On 28, Mar 2011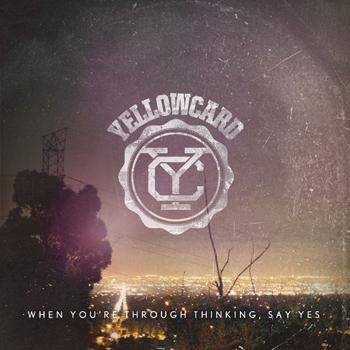 Having resurfaced from the high seas of hiatus, violin-wielding rockers Yellowcard have put together ten glossy pop punk cuts to sate the edge that two years' fasting has put upon fans' appetites.
'When You're Through Thinking, Say Yes', carrying on the minor tradition of cumbersome titles, opens with 'The Sound Of You And Me', a fast-paced punk bounce of a song, introspective melancholy provided via lyrics and melodic violin, offset by a high-energy rock heart in its slickly paced drumming and rock guitar, all coming to an emotive peak towards the end. Follower 'For You, And Your Denial', if one ignores the overly melodramatic title, is in fact a tantalising number, featuring shimmering classical-influenced violin melodies woven around light yet crunchy guitar chords and vocals that are unashamedly pop punk; squeaky-clean in their delivery, with a nasal twang that suits the harmonic backing vocals. The bridge brings it all together again, before a halt-boom tweak to add excitement and kick to the final sing-along chorus.
'With You Around' switches to a slightly more dour mood. Despite the sunshine undertones the band retain in tunefully bright vocals and light rhythm guitar sounds, the lead guitar is given a scraping distortion that whispers darker hints (think grunge-lite) and a wistful lyrical turn adds to the palm-mute/distorted strum verses and the heartstring-tugging approach of the chorus as we tread the waters of the growing-apart song. It never strays from pop to hold profundity, but it is far from clumsy or shallow. 'Hide' roams similar territory, the echoing backing vocals slightly too trite and robbing the song of heft, but elsewhere this is a concise, slick little song that makes its point and pushes home a catchy chorus and enjoyable violin/bass guitar riffs.
Mercifully unemphasised balladry raises its head on 'Hang You Up', as Americana twangs enter the guitars, alongside a lightly embellished 4/4 beat. Despite a stadium chorus, the earlier verses are surprisingly intimate; the vocals much less glossy and the guitars grittier in tone. The lyrics are surprisingly eloquent, showing Yellowcard developing a new maturity alongside a bright sound. This segues neatly into the high-energy, gleeful soul-searching of 'Life Of Leaving Home', a totally unabashed crowd-mover with simultaneous guitar and violin solos and infectiously adrenalin-shifting cymbal/snare battering drums. The lyrics do however waver between teeny-bopper pseudo-poetry and deeper maturity.
'Soundtrack' returns to punkier territory, dominated by a harsher guitar sound and more evident bass chug, outlined by solid drumming, the expansive distorted chords allowing treble-toned leads and violins to punch home a much-needed rock out of a midsection, even if it is hampered by the band's pop sensibilities. The vocals are perhaps a little too "studio" here, but the band are able to pull it off. 'See Me Smiling' likewise kicks in a much-needed boost with frenetic violin/percussion interplay and a low-key bass rumble to really make the chaotic riff blossom. Sparser, emotive verses propelled by twin guitar chugs zip into fist-pumping choruses and the whole think refuses to ebb below an energetic pogo.
To close, we have the grandly-mixed 'Be The Young', slow violins and agile guitar blending with reverb-soaked drums to create a lush yet unpretentious backdrop for the band's closing anthem. The verses recall that earlier peeling-back of vocal processing, contrasted with the full-on instrumentation that creates a highly accessible teenage symphony that holds a earnest heart.
The only truly unfortunate track in an album that is otherwise sweetly charming and as energising and bright as a shot of E-numbers wrapped in burgeoning introspection is the turgid, trite piano love song 'Sing For Me', a slow swaying ballad that simply feels out of place and contrived. But begrudging that in an otherwise solid return is rather unfair. Yellowcard have not only reunited in a totally non-cynical manner, but they have provided a perhaps overly glossy yet undeniably energetic album that blends a newer, more mature songwriting approach with their trademark melodic yet pogo-ready sound. Yellowcard fans can rest assured, the band have made a strong, shining return.
Author: Katie H-Halinski