WAKA FLOCKA FLAME Launches competition to find the UK's next rap star in conjunction with MySpace, SBTV and Warner Bros. Records
aaamusic | On 29, Mar 2011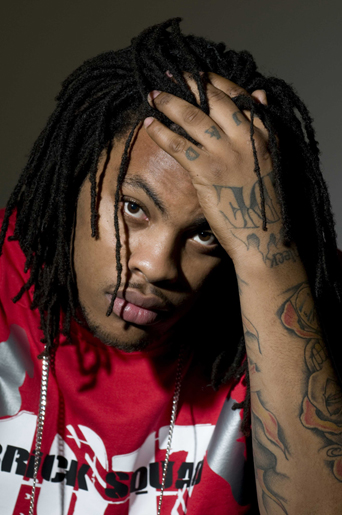 Having sold over 2 million copies of his Stateside hit single 'No Hands', rap sensation Waka Flocka Flame turns his attention to the UK with the launch of an exciting new competition in conjunction with Myspace, SBTV and Warner Bros. Records.
To enter the competition, aspiring rappers need to download the instrumental version of 'No Hands' from www.myspace.com/lookwakanohands. The entrant will then need to record their own lyrics over the instrumental, upload the track to their own profile under the title No Hands MySpace Comp and then complete the entry form on the competition's profile page.
One winner will win a breaking artist prize package consisting of a release of the track by Warner Bros. Records, superstar promotion courtesy of Myspace and a Warm Up session on SBTV (www.sbtv.co.uk), the UK's leading youth media channel on YouTube with over 42 million views.
The competition closes at 2pm on Wednesday April 13th.
Featuring Roscoe Dash and Wale, Wacka Flocka Flame's 'No Hands' has already been viewed over 31 million times at YouTube. His debut album 'Flockaveli' hit #6 on the Billboard 200 and features two further North American hit singles in the shape of 'O Let's Do It' and the Lex Luger-produced 'Hard in Da Paint.'
Waka Flocka Flame didn't want to be a rapper when he grew up. He didn't want to write hit songs, perform in front of thousands of people at packed clubs or hear his songs played on radio stations across the country. Born Juaquin Malphurs in Queens, N.Y., Waka Flocka certainly had all the connections to forge into music at a young age. He grew up around the corner from Ja Rule, lived near LL Cool J's grandmother and even had a cousin who used to hang around the Lost Boyz in the mid-1990s. But when his mother relocated the family to Georgia when Waka was eleven, he shied away from music. And after his youngest brother died in automobile accident when Waka was just fourteen, he moved even further away from it.
At eighteen, Waka looked on as his mother began managing the career of Gucci Mane. Soon, Waka began messing around with music himself alongside local producer Tay Beatz. The result was his 2008 mixtape 'Salute Me or Shoot Me, Vol. 1'. Its popularity earned Waka a place in Gucci Mane's 1017 Brick Squad clique.
But his sudden success also took its toll. In January 2010, he was shot several times at a car wash in Atlanta during an alleged robbery attempt. The following month, Method Man spoke out against Waka, criticizing the lack of lyricism involved in crafting his style of music. He also endured a short rift in his relationship with Gucci Mane after the rapper parted ways with his mother's management company in May. The incidents earned Waka a reputation as one of the most controversial artists in the industry — a reputation that he doesn't feel he deserves.
www.myspace.com/wakaflockaflame
Competition page: www.myspace.com/lookwakanohands