Gagarin (Pere Ubu / Sons Of Arqa / Low Bias feat Mark Beazley) unleashes the new album, Biophilia, out Monday 20th June.
aaamusic | On 31, Mar 2011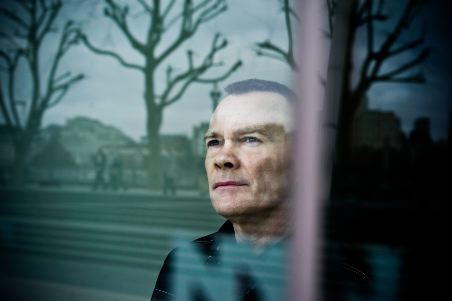 Gagarin is the solo incarnation of Graham " Dids " Dowdall – percussionist, composer and sound designer. He makes atmospheric and moody electronica inspired by landscape, environment, urban noisescapes, grooves and a wide range of musical influences. Dids has had a long career at the cutting edge of the musical galaxy – involved in a myriad of projects ranging from avant rock to pop to drum and bass. He started out as drummer in cult Manchester band Ludus, recorded and toured extensively with Nico (Velvet Underground) and has a huge number of collaborations under his belt including with musical legends John Cale and David Thomas (Pere Ubu). He's played around the world from a shamanic festival in Siberia to underground Tokyo clubs to castles in Scotland and France and most countries on the planet.
Gagarin's musical hyperactivity continues unabated – he runs his own Geo label, is a member of the acclaimed Roshi feat. Pars Radio, festival legends Suns of Arqa, an associate member of the one and only Pere Ubu and has recently started a new project Low Bias with Rothko mainstay Mark Beazley as well as being an active community musician passing on skills & facilitating creativity for young people and adults with special needs, and teaching at Goldsmiths College.
He started the Gagarin project several years ago and has released records on his own Geo label, contributed to compilations and plays live regularly on the electronica scene where his unique genuinely live approach to electronica is always welcome. Since his previous album Adaptogen, Gagarin has continued to gig regularly around Britain, has released a remix EP including mixes from legendary producer Youth and Robert Logan, has produced and released acclaimed records from Roshi feat Pars Radio and Raf and 0. He has contributed tracks to the record and live show of Pere Ubu's Long Live Pere Ubu, performed at Big Chill, Glastonbury and lots of other festivals with Suns Of Arqa
Biophilia is his latest album and continues his obsessive exploration of the interface between pastoral and urban environments and sound worlds. Tracks likeWanderlust feature field recordings and melodic/sonic responses to create a sense of place – in this case Pagham Harbour in Sussex whilst Third Rail and Carbon Flux are abstract evocations of Dids' South London manor. Last child in the woods relates to Nature Deficit Disorder – the alienation of modern children from the natural world. The album moves between ambient soundscapes and more urban grooves with edgy beats, post rave synthlines, glitches, manipulated field recordings and influences ranging from modern classical and minimalism to hip-hop and dubstep. Eleven tracks creating a journey of sounds and ideas inside and outside the M25 via occasional departures from earth orbit into early space exploration (3KA-3, Kedr) passing through stages of bliss and unease (Pripyat is the central town in the "zone of alienation" left
after Chernobyl, Galanthus inspired by the first Snowdrops of the year).
Dids took the name of Gagarin – the first man in space for his solo project after a visit to Russia and it resonates with those fantastical ideas of the early 60's when we thought we'd all be travelling by personal jetpack. This year sees the 50th anniversary on 12th April of Yuri's first ever flight and to commemorate this Gagarin is releasing a 2-track download single. This comprises 7" style mixes of 3KA-3 – a glitchy, two step-referencing workout named after the code for Gagarin's Vostok spacecraft and KEDR (Cedar) – his call sign, which features the man himself communicating with ground control and evokes that sense of exhilaration, claustrophobia and wonder that Yuri must have felt alone out there in Earth orbit. Alongside this Gagarin plans a series of commemorative gigs around the anniversary period.

Gagarin
Biophilia Track listings:
1. Pripyat
2. 3KA-3
3. Dunnock
4. Wonderlust
5. Third Rail
6. Galanthus
7. Kedr
8. Last Child In The Woods
9. Carbon Flux
10.Chalybeate
11. Dopplar
Label: GEO Records
Catalogue Number: GEO 019
Release Date: June 20th
Format: CD / Download