Aeroplane vs. Friendly Fires vs. Giselle
aaamusic | On 02, Apr 2011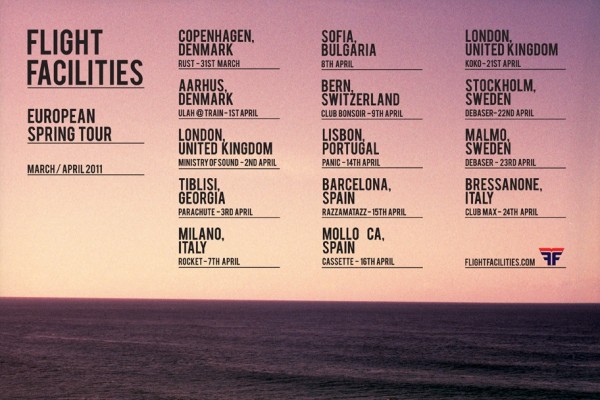 Australia's Flight Facilities embark on a European tour with stopovers in Denmark, Sweden, England, Portugal, Georgia, Spain, Bulgaria, Switzerland and Italy.
Flight Facilities capped off 2010 with a Kitsune Maison milestone 10th compilation, an SMAC Award nomination for Best Song of 2010 and finished in the top 20 of Australia's biggest radio poll, Triple Js Hottest 100. Flight Facilities' tracks also appeared on Ministry Of Sound compilations and the highly regardedHotel Costes series.
As well as their original productions they have remixed Cut Copy, Foals, The C90s, James Curd, Bag Raiders, Sneaky Sound System, The Lowbrowsand Holy Ghost.
Quickly stepping into the touring DJ role with almost 50 sets in 6 months ranging from intimate 200 person nightclubs to 15,000 person crowds, Flight Facilities' journey has carried them on tours across Europe and Japan and numerous festival slots.
They've also seen blessings via Aeroplane's amalgamation of Friendly Fires and Flight Facilities featuring Giselle, a Moopjaw directed music video featuring a transgender model and Karen O's costume designer Christian Joy and won praise from celebrity blogger Perez Hilton.
Aeroplane vs. Friendly Fires vs. Giselle (Flight Facilities Edit) by flightfacilities
Tour dates:
31st March, Copenhagen, Denmark
1st April,  Aarhus, Denmark
2nd April, London – Ministry Of Sound
3rd April Parachute Club, Tiblisi (Georgia)
7th April, Milano – Rocket
8th April, Sofia, Bulgaria, DJ Mag Party
9th April, Bern – Club Bonsoir
14th April, Lisbon – Panic
15th April, Barcelona – Razzmatazz
16th April, Mollorca – Cassette
21st April, London – Koko
22nd April, Stockholm – Debaser
23rd April, Malmo – Debaser with Friendly Fires (Live)
24th April, Bressen / Bressanone – Club Max with Punks Jump Up
flightfacilities.com