Win A Pair Of Graveyard London Tickets!!
aaamusic | On 04, Apr 2011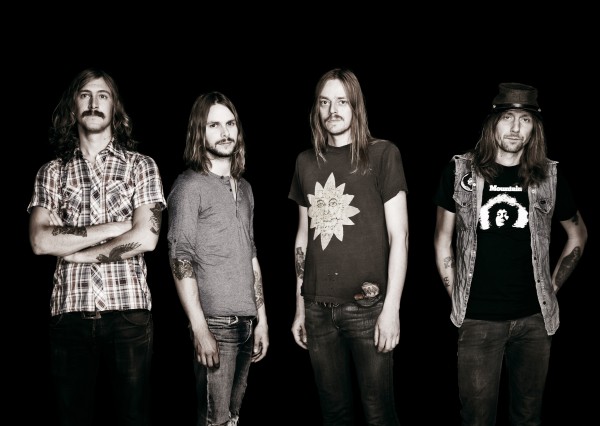 Win a pair of Graveyard Tickets for the London show on 27th April!!!
For your chance to win simply email your name and the name of your guest to
Hurry Up! Entries close on 20th April. Good luck!
Buy tickets here.
When Swedish doom/stoner outfit NORRSKEN split up in 2000 it gave birth to two new bands. While one remaining member founded WITCHCRAFT, the rest of the band went on to form something really rare, something obviously unique – an honest sonic feeling that is now known as GRAVEYARD. A group that stands for no boundaries, no limits at all. Playing all sorts of rockish music makes GRAVEYARD stand out from the crowd. Be it classic rock, blues, jazz, folk – you name it – the authentic quintet makes it sound real at any time. With wide influences spreading throughout different genres, GRAVEYARD always stay top notch in what they do – giving the listener a broadened spectrum of emotions, moods & feelings. BLACK SABBATH meets ROLLING STONES meets LED ZEPPELIN meets JANIS JOPLIN … the list could go on and on. While other bands just count on their neo satanic attitude or revived old school imagery, GRAVEYARD deliver it all along with stunning tunes that take you on a journey to a long lost decade of true musicianship.
"Hisingen Blues" was produced, recorded and mixed in a raw, authentic yet strong and clear way by Don Alsterberg (JOSÉ GONZALES, JUNIP, SOUNDTRACK OF OUR LIVES, THE INTERNATIONAL NOISE CONSPIRACY) in Don Pierre Studios / Gothenburg, where the band together with Don has managed to create a totally analogue recorded and mixed production that skilfully combines a 70's vibe with a more powerful modern sound.
Besides their amazing, catchy music, over the years GRAVEYARD have also scored with overwhelmingly great visuals (covers, merchandise, band pics) all over which makes a just perfectly harmonizing package.
In late 2010 GRAVEYARD drew the attention of Nuclear Blast Records who immediately signed the promising band on the spot.
Teaming up for the release of their second album "Hisingen Blues", the world can expect nothing less than a true masterpiece of rock music and a band and label showing what they've got up their sleeves!
Commented head of A&R Andy Siry: "We are honoured to be working with GRAVEYARD from now on! These guys are the most unique and amazing band the so-called retro rock scene has to offer although GRAVEYARD are MUCH more than this. Keep your caps peeled – GRAVEYARD is upon us – 2011 will be the year of the 'YARD!"
Commented the band: "It feels great to work with such experienced and dedicated people as the Nuclear Blast crew. Awesome!! It's a label that's founded by old school tape traders that obviously are good at what they do, since NB is one of the few big independent labels that manage not only to survive, but also to expand in today's difficult music climate. Peace, love & chemical warfare!" – GRAVEYARD