Daniel Higgs – April UK tour
aaamusic | On 07, Apr 2011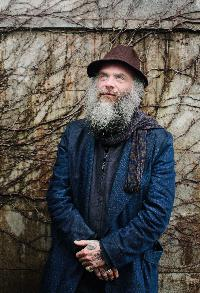 Legendary Baltimore experimental rock musician Daniel Higgs is set to play a few shows in the UK in April.
Higgs is known for his work as the sole lyricist and frontman of the band Lungfish, a four-piece enshrined as one of America's last true folk bands. In recent years, Higgs has released a number of solo outings that can only be described as the ultimate in isolation, worlds away from the hypnotic, communal rock of his band.  His latest solo recording Say God was released earlier this year on Thrill Jockey. He also released a collaboration with sound artist and Nautical Almanac member, Twig Harper, called Clairaudience Fellowship.
Earlier this year we saw him him lending vocals to Peer Amid, the new album by Swedish drone/ritual rock group The Skull Defekts, which saw Higgs return to familiar Lungfish territory.
April 22 LONDON*
Cafe Oto 18-22 Ashwin St Dalston
E8 3Dl + Maya Dunietz + Assaf Talmudi
http://www.cafeoto.co.uk
April 24 LONDON*
Cafe Oto 18-22 Ashwin St Dalston  E8 3Dl
http://www.cafeoto.co.uk
April 26 GLASGOW**
Nice N Sleazy 241 Sauchiehall St G2 3LG
http://nicensleazy.com/
April 27 NOTTINGHAM*
Lee Rosy's 17 Broad St Hockley NG1 3AJ
http://www.rammelclub.org
April 28 CARDIFF**
10 Feet Tall 12 Church St CF10 1BG
http://www.10feettallcardiff.com/
*solo
**trio with Maya Dunietz and Ram Gabai