Sishi Roesch drops Sleaze Machine EP for Blaq due April 18th with remixes from D. Sharma + D. Krause, Soundspace, Rubinskee
aaamusic | On 07, Apr 2011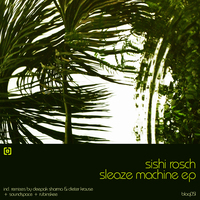 For our 51st release we have our dear friend Sishi Rosch drop an amazing ep filled with love and sexiness. Sishi is a young producer hailing from Guatemala and based in Barcelona, in the past few years we have become big fans of his music and we have become real good friends, we consider him a member of our Blaq family, his sound is uncompromised, sexy, fun and most of all truly original, we are really happy to have such an amazing artist in our crew. By now, you know Blaq Records is based on family values, love and friendship, these are the main aspects and most important things for us in music.
The remixes come from Blaq label owner Soundspace and one of the new members of the Blaq family Rubinskee, this amazing young Mexican producer is putting out some of the freshest sounds in the city, look out for his upcoming EP on Blaq very soon, it will for sure blow your mind. Deepak Sharma & Dieter Krause drop a dark, obscure and twisted after hours remix.
We love variety and diversity of styles and this EP proves this in many ways. There are lots of fresh flavors to choose from in the remixes here and make sure to keep an ear out for Sishi's upcoming releases.
Sishi Rosch appears courtesy of Digital Delight & Sultry Vibes Barcelona and Deepak Sharma & Dieter Krause appear courtesy of Hidden Recordings.
TRACKLISTING
01 Easy, Honey
02 Rodeo Strip (Deepak Sharma + Dieter Krause Remix)
03 Rodeo Strip (Rubinskee Remix)
04 Rodeo Strip (Soundspace Remix)
05 Rodeo Strip
06 Sishi Roesch & Nick Vandiver – Downtown Sleaze Version 1
07 Sishi Roesch & Nick Vandiver – Downtown Sleaze Version 2