Caligula present AZARI & III (LIVE)
aaamusic | On 11, Apr 2011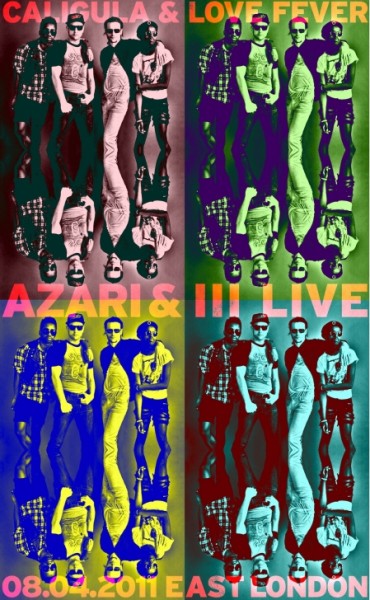 Caligula present AZARI & III (LIVE)
Friday 8th April
Secret East London Venue
10pm – 6am
Robert Outch
Luca C
…Bi-Bop (ReviveHER / Cool In The Pool)
Fat Passion (MudLove)
& more TBC
£10 ADVANCE TICKETS HERE – http://bit.ly/gpnU2m
SECRET EAST LONDON VENUE
10AM – 6AM
Spring has finally arrived and excitement is in the air. To celebrate, London's most loved, revered and sleaziest party, Caligula, is hosting Azari III's first ever HEADLINE LIVE show on these shores or ANYWHERE on Friday 8th of April!
Having found the perfect two story Shoreditch space – limited to just 300 people – to host the party, it is time to get ready for what is going to be the most raucus party in London!
AZARI III (LIVE)
Tipped to be the hottest dance band in the summer 2011, and one of the headliners at this year's Love Box Festival, Azari & III Live will be performing their massive underground tracks 'Reckless (With Your Love) and 'Hungry For The Power' in this hedonistic and intimate environment. With recent remixes from the likes of Nicolas Jaar and Runaway filling the most sophisticated dance-floors from NY to London to Berlin this is your first chance to see them LIVE with full vocalists and band.
Caligula have some special treats in-store for the night, so be prepared!
Venue details out on WED 6TH…
Check out the facebook event here / Tickets available now from here