Thursday stream whole new album online
aaamusic | On 11, Apr 2011
NEW THURSDAY ALBUM 'NO DEVOLUCIÓN' STREAMING IN FULL ON MYSPACE:  
SIXTH STUDIO ALBUM OUT 11TH APRIL & UK LIVE DATES IN APRIL
www.myspace.com/thursday
UK tour dates:
April-19 – London, UK @ Kings College
April-20 – Manchester, UK @ Academy 3
April-21 – Cardiff, UK @ Millennium Music Hall
New Jersey's passionate rock band Thursday returns on April 11 with their most dynamic album to date, No Devolución.  On their sixth studio album, Thursday explores elements of post-rock, indie, art and experimental styles, blending it all with their post-hardcore roots for a beautifully cathartic experience unlike anything they've done before.
Emotionally charged atmospheric guitars, rhythm and keyboards swirl in unison with Rickly's inimitably intense vocals, painting a powerful cinematic-like soundscape and grabbing hold of listeners with each twisting turn. No longer merely the "screamo" band of yore, Thursday has transcended the genre they helped to spark with No Devolución, which translates to "No Returns," an appropriate title for a band consistently moving forward.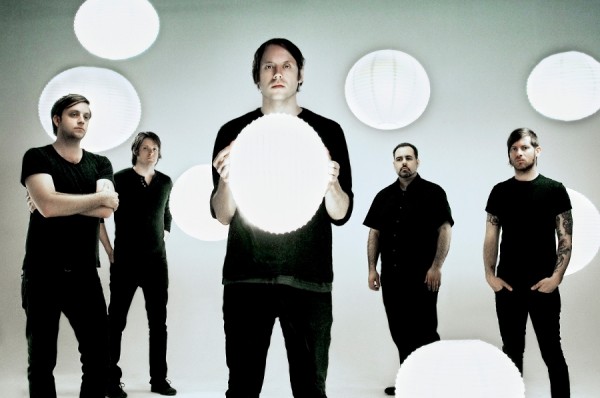 No Devolución wastes no time with the frantic urgency of "Fast to the End," which strikes a perfect balance between new and old styles.  Tom Keeley and Steve Pedulla's elaborate guitar work, Tucker Rule's driving percussion, Tim Payne's rhythmic bass and Andrew Everding's powerful keyboards fuel the narrative for Rickly's deeply personal tales of undying devotion, a theme found throughout the album.  "Records are always written about new love or break-ups but no one ever writes records about long term devotion," says Rickly.  "After 13 years as a band, this theme seemed self-evident."
No Devolución's theme of devotion can be felt as the dramatic arc of the album unfolds. Segueing seamlessly from one to another, "No Answers" and "A Darker Forest" find Thursday at their most vulnerable place ever. Rickly's haunting vocals float through fields of atmospheric guitars and keyboards, building to the album's first single "Magnets Caught in a Metal Heart," a stunning and memorable song of love's bittersweet attraction.
Thursday's parting salvo on No Devolución is "Stay True," a stunning post-rock track that evokes the epic sweep of Explosions in the Sky and the powerful intensity of Mogwai all the while maintaining a sound which is distinctly Thursday.  Rickly sings "We've all got a lot to lose. Whatever else you do, Stay True." And that is exactly what the band has done here.  Moving forward yet staying true to themselves along the way.
Thursday have announced European tourdates for April. The tour kicks off in London on April 19th and will include shows in Germany, The Netherlands & Belgium. During the Belgian Groezrock festival, Thursday will be playing an exclusive extra set of their classic groundbreaking album 'Full Collapse' in its entirety.
In anticipation for the album, Thursday and Epitaph Records are inviting fans to pre-order No Devolución on Deluxe Limited Edition CD, Vinyl or CD/T-Shirt bundles at http://www.epitaphstore.com . The Deluxe Edition CD is an eight-panel laser-cut wallet on 18pt. SBS stock from an original design by the No Devolución cover artist, Mia Pearlman (www.miapearlman.com). It is hand numbered and signed by the artist and limited to 500 copies.