Herman Dune – new album Strange Moosic out in June
aaamusic | On 12, Apr 2011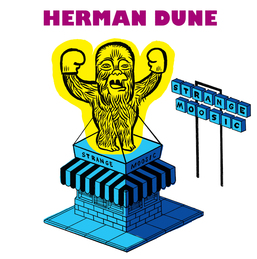 A decade ago, songwriter and vocalist David-Ivar Herman Dune and drummer Cosmic Neman let go of their secular life and created the band Herman Dune.
Out of Paris, all across Europe and all the way to New York City, they gained a formidable Cult Status with the help of UK DJ John Peel. John Peel picked them as one of his favorite spins and invited them to many of his glorious Peel Sessions (more than 10) that really radiated and allowed Herman Dune to perform all over the world. They meet crowds of dedicated fans without stepping out of the DIY network, with Tape and 7" releases and a whole lot of self-released discography or through devoted bedroom labels, like Shrimper (US) or Track & Field (UK). It's hard to gather, but it's safe to say 12 albums were released through all kinds of obscure networks.
In 2006, Herman Dune change their line-up after the departure of David's brother Stanley and record songs in a professional studio for the first time. The ensuing record propels them to a wider recognition, with "I Wish That I Could See You Soon" ranking in Rolling Stone US's choice of "Best Songs In 2007" and an acclaimed Sesame-Street-Style video for the song by director Toben Seymour. Herman Dune start headlining bigger venues in Europe and end up selling out The Olympia in Paris (2500 seats), amongst others.
They then start touring intensively in Europe and the USA, by themselves or with friends Kimya Dawson Jeffrey Lewis or Julie Doiron. They also are chosen by the artists themselves to open tours for Jolie Holland, Arcade Fire or The Kooks. They still find time to record and release Next Year In Zion, second proper studio album with emblematic Tune "My Home Is Nowhere Without You".
After Touring like maniacs on the run for something like two years, they finally take a break. In 2010, Cosmic Neman records and tours with his duo Zombie Zombie, while David-Ivar takes some time off  performing to breathe, to draw (with art shows of his drawings in New York, Paris or Milano) and to write.
Out of the many songs David-Ivar wrote, he consults with Cosmic Neman to pick the ones they will record . Out of the 20 songs they recorded, they pick the numbers for "Strange Moosic", Herman Dune's New Album.
Strange Moosic
Personnel
David-Ivar Herman Dune: Vocals and Guitars
Cosmic Neman: Drums
With
Ben Pleng: Bass Guitar
Produced by Herman Dune
Produced, Recorded and Mixed by Adam Selzer at Type Foundry Studios, Portland,
OR.
Frontman David-Ivar Herman Dune's facility in bending the English language to his whims is impressive, given that he was raised in Paris of Swedish and Jewish descent. He learned American English playing chess with his grandfather, a Swedish diplomat who lived in DC, and began writing simple songs in English at the age of 11. There is sly playfulness and whimsy in David's lyrical acrobatics and his phrasing and cadence pay tribute to songwriters like Bob Dylan, Chuck Berry, Jonathan Richman and David Berman. His words distill innocent beauty from the prosaic and he crows about them with a joyous high lonesome timbre and soft accent.
On drums and percussions, Neman Herman Dune (who is French born, and also raised in Paris) provides the steady heartbeat that syncopates David's words and music. The elegant polyrhythmic thump hints at an affection for Charlie Watts, Can and Mo Tucker, and gives a buoyant foundation for David's chiming guitar. These two play off each other's strengths with the familiar ease that comes from life-long friendship.
David-Ivar's voice and rhyming are more than ever anchored in the strong melodies of Strange Moosic, and it probably makes this record Herman Dune's most Pop Record to date. When listening at first, one can notice how the songs are short, direct and concise to start with, only to later get into the different fields, depths and meanings of the words. The songs of Strange Moosic are songs you get hooked on and then dig into.
Both David-Ivar and Cosmic Neman wanted to record with Adam Selzer who they had met on tour. Adam owns a recording facility in Portland, OR. He had previously recorded great albums and seemed just perfect to record songs played live and have them sound right and rich. Adam and Herman Dune had spent nights listening to The Beatles and Neil Young together before, so somehow the Dune really trust him with their life.
They call Ben Pleng, their long time friend and tour Bass Player and get in the studio as a Three-Piece.
Herman Dune had in the past always been touring up until recording day, and Strange Moosic was recorded after their first ever break from constant travels together. Strange Moosic is the first Herman Dune album on which the songs had not been played at shows before being recorded. When previous albums were the reflections of different moods and moments of a Herman Dune live show, Strange Moosic was recorded as 20 different single tracks, and then went through choices, selection and compilation.
They were arranged and practiced for recording, even if they were played and sung simultaneously, live in the studio.
From the sound-waves of "Tell Me Something I Don't Know", to the Choir of "Ah Hears Strange Moosic", from the crisp guitar solo of "Your Love Is Gold" to the Nashville-style pedal steel of "In The Long Long Run", from the eerie harpsichord theme of "Where Is The Man?" to the joyful groove of "The Rock", each and every song has its own little musical story to tell. And so do the lyrics, from the light-hearted spirit of "Be A Doll And Take My Heart" to the cryptic "Magician", and from the faithful Love in "The Rock" to the romantic "Lay Your Head On My Chest".
Portland was the perfect town for Herman Dune to record Strange Moosic, as many of their musician friends live there and were willing to partcipate in the making with their gifts, like Rachel Blumberg and Sean Flinn's amazing singing on many tracks. Everybody worked together in the studio, and focused on making the song itself shine, everybody involved in making the melodies the grooves and the themes cut through. All crafts were used to make rich compositions out of the tunes without hiding any of the beauty of a simple song, played on an acoustic guitar, just the way they were conceived.
So, each song was crafted in its own particular way, independently from the others. Of course the way the songs work together can also tell a different story, and it will.
Herman Dune will be hitting the road for some UK dates in June:
4 June – Bristol – Thekla
5 June – Brighton – Coalition
6 June – London – XOYO (w/ Comet Gain)
http://strangemoosic.tumblr.com/
www.hermandune.com
http://www.myspace.com/therealhermandune