Win tickets to see AND SO I WATCH YOU FROM AFAR Live at Scala!
aaamusic | On 12, Apr 2011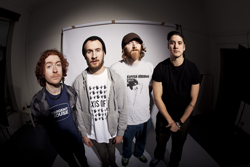 Known for their unrelenting tours that has seen them play over 300 gigs since the start of 2009, Belfast's And So I Watch You From Afar (ASIWYFA to their fans) don't know how to take a break. From appearances at SXSW, Eurosonic, Electric Picnic, Novarock, Canadian Music Fest, Popkomm, Pukkelpop, Sonisphere, to tour dates in Europe, North America, Russia and a support slot for rock supergroup Them Crooked Vultures, the instrumental band have been on the road playing music non-stop since the release of their fan-stirring debut self-titled album.
Time: 7:30pm until 11pm
Admission: £9.50 advance. Age 16+
Tickets: www.ticketweb.co.uk 08444 771 000 or Scala box office between 10am and 6pm Mon-Fri
Competition
Email to: competitions@scala-london.co.uk with the subject heading "ASIWYFA" before 3pm on Wednesday 13th April 2011.
Results
We will draw 2 winning entrys at random. The winners will receive one pair of tickets for free admission to the event. If you are a winner you will be notified by email before 4pm Wednesday 13th April 2011.