Japanese Voyeurs cover Nine Inch Nails' Closer plus Single 'Get Hole' out next week
aaamusic | On 14, Apr 2011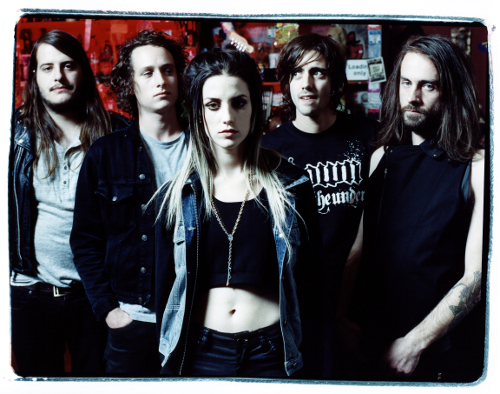 With their brand new single 'Get Hole' out this coming Monday April 18th on Fiction, Japanese Voyeurs breathe a fresh lease of life into a 90s classic with their lascivious cover of Nine Inch Nails'
'Closer'.
See the video here:

With Camden Crawl looming and a Trail of Dead support slot next week,Japanese Voyeurs have also been confirmed to support Black Spiderson their May tour, adding another slew of shows to their relentless touring schedule.
Taken from their eagerly-awaited debut album 'Yolk', single 'Get Hole'fuses vicious riffs with Romily Alice's unmistakable sweet & sour vocals.
See the video here:

Japanese Voyeurs' debut album 'Yolk' is due to be released later this year and was recorded with GGGarth Richardson (Rage Against The Machine/The Melvins/Jesus Lizard) in an isolated farmyard in the forests of Canada, and mixed by Alex Newport (Fudge Tunnel/At The Drive-In) in the sweat of the Brooklyn Summer. Veering from the softest caresses to the most brutal of attacks, you can feel not only the dichotomy between the seclusion of the Canadian wilderness and the strip bars of inner city New York, but the internal psychodrama that makes the record such a visceral experience.
Romily sums the record perfectly: "when we started out there weren't that many new groups making heavy music, the kind of music we liked to listen to when we were growing up, we wanted to recapture that spirit and that brutality".
Japanese Voyeurs are Johnny Seymour (Bass), Rikki Waldron (Keys), Romily Alice (Guitar/Vocals) Steve Wilson (Drums) and Tom Lamb (Guitar).
See Japanese Voyeurs live at the following shows:
April
19 London Islington Academy (w/Rival Schools & Trail of Dead)
30 London Camden Crawl
May
01 London Camden Crawl
05 Leeds, Cockpit (w/Black Spiders)
06 Middlesbrough Sumo @ Empire (w/Black Spiders)
08 Winchester Railway (w/Black Spiders)
09 Brighton Hydrant (w/Black Spiders)
10 Cambridge Haymakers (w/Black Spiders)
12 Exeter Cavern (w/Black Spiders)
13 Milton Keynes Pitz (w/Black Spiders)
15 Cardiff, Clwb Ifor Bach (w/Black Spiders)
17 Wolverhampton Little Civic (w/Black Spiders)
18 Newcastle Academy 2 (w/Black Spiders)
19 Edinburgh Cabaret Voltaire (w/Black Spiders)