PS I Love You cover Madonna's 'Where's the Party' Free download!
aaamusic | On 14, Apr 2011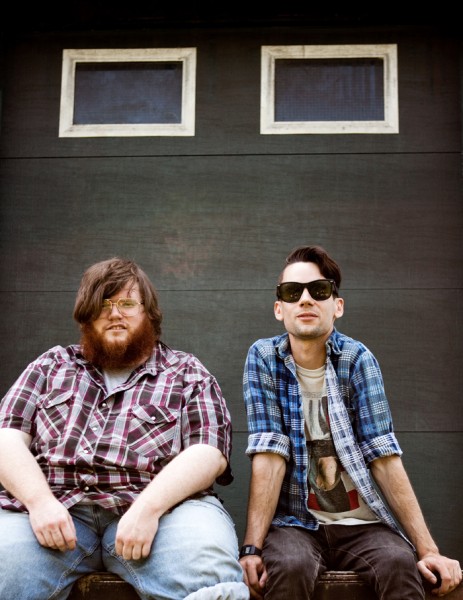 PS I Love You 'Where's The Party' (Madonna cover) by Paper Bag Records
'MEET ME AT THE MUSTER STATION' (PAPER BAG RECORDS) RELEASED APRIL 26TH
UK TOUR TO FOLLOW IN MAY
Kingston, Ontario's quick-rising duo, PS I Love You, are set to unleash their brilliant debut album on April 26th, 2011. The ten-track album titled, Meet Me At The Muster Station, is a relentless listen that grips and pulls the listener through just under thirty-minutes of squalling Marshall feedback, searing solos, soaring melodies and rock-steady beats that will surely be considered one of this year's finest debuts.
PS I Love You was originally the solo project for multi-instrumentalist Paul Saulnier who has performed in everything from a country-rock band to an improvised noise duo. PS I Love You was intended to be his experimental, pop music outlet using guitar looping pedals, keyboards with some gadgets and gimmicks. The addition of Benjamin Nelson on drums suddenly transformed PS I Love You's little songs into mini, soaring rock anthems.
After the release of their debut in North America, Meet Me At The Muster Station appeared on a number of 2010 year-end lists.  Highlights include: Exclaim, Aux, The Coast, Consequence of Sound and individual critics lists at Toronto Star and Now Magazine.  Exclaim named …Muster Station it's #4 album of the year, and said:
"It's hard to believe that the stunning Meet Me at the Muster Station is PS I Love You's debut. Arriving fully formed, this Kingston duo delivers its catchy hooks with brute force, pummelling listeners with fuzzy guitars and thundering rhythms. And even if you won't be able to sing along with frontman Paul Saulnier's strangled yelps, songs like "Facelove" and "2012" will be stuck in your head for weeks. Savage noise freak-outs have never sounded quite so palatable."
These recent accolades add to the already glowing praise from the likes of Pitchfork, Village Voice, NME, Eye, Exclaim, Now, Toronto Star, The Fly, Gigwise, LA Weekly, SF Weekly, Portland Mercury, San Diego City Beat, The Stranger, Washington Post, Brooklyn Vegan, Consequence of Sound, PopMatters, Pop Tarts Suck Toasted,  CMJ, Prefix, Treble, and KCRW.
Praise for PS I Love You:
"The odd-couple duo of Paul Saulnier (guitar/vocals) and Benjamin Nelson (drums) couch their considerable technical skill in a grungy garage-rock dressing, conveying palpably heartfelt emotion through mostly indecipherable yelping. And with Meet Me at the Muster Station, they've produced a compact debut that nonetheless feels momentously epic." – [8.1/10] Pitchfork
"Get Over": One of the more kinetic tracks on Meet Me at the Muster Station puts it over the top with an inspired midsong ska break. Yes, a ska break." – [#12 / Ben Rayner's Reasons to Live] Toronto Star
"Alongside their mascara-rocking brother band, Diamond Rings, this 90s-worshipping Kingston duo rode a howling wave of feedback from well-kept local secret to full-out critical darlings. Even when indulging in retro-style guitar heroics, this stunning debut album doesn't waste a note." NOW Magazine
See the band live in the UK at the following shows:
5/05 London UK – Lexington
5/06 Leeds UK – Cockpit 3
5/07 Glasgow UK – Captains Rest
5/08 Edinburgh UK – Sneaky Pete's
5/09 Manchester UK – Night and Day
5/10 Sheffield UK – Harley
5/12 Brighton UK – Hectors House (The Great Escape, The Fly)
5/13 Brighton UK – The Albert (The Great Escape, 13 Artists)