Thomas Dybdahl New album 'Songs' Out 6th June
aaamusic | On 14, Apr 2011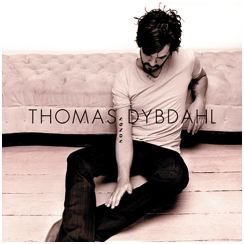 Thomas Dybdahl, one of Norway's biggest musical stars, will make his Worldwide full-length debut with 'Songs' this summer – an intimate album of lush, intricately orchestrated melodies. 'Songs' will be released on Decca Records, in partnership with Strange Cargo, (a new label created by multiple Grammy-winner Larry Klein) on 6th June 2011.
Hailed as "Norway's answer to Nick Drake" (NME), Thomas's songs linger with a suppressed intensity that also brings to mind Jeff Buckley and Damien Rice. Paste Magazine describes his music as "gently majestic…his craftsmanship is exhilarating to behold."
Album highlights include lead single "From Grace," a gorgeous pop song underscored by plucky acoustic bass and swirling drums, and "All Is Not Lost," which flickers with Thomas' earthy tenor and chugging guitars, dissolving into a hazy instrumental. "Cecilia" glides on echoing guitar and weightless, breathy vocals. He cites an array of inspirations for his work including Tim Buckley's 'Happy Sad' (1969), Colin Blunstone's 'One Year' (1971), and Serge Gainsbourg's 'Histoire de Melody Nelson' (1971).
Dybdahl has received a number of Norwegian music awards, collaborated with a broad range of artists from electronic pioneers Morcheeba to acclaimed designer Phillippe Starck, and fronts the platinum-selling band The National Bank.
Thomas will be playing at XOYO in London on 30th May.
'Songs' track list:
1. From Grace
2. A Love Story
3. Cecilia
4. All Is Not Lost
5. The Great October Sound
6. Don't Lose Yourself
7. Pale Green Eyes
8. B.A. Part
9. One Day You'll Dance For Me
10. Dice
11. It's Always Been You
12. Something Real
13. Rain Down On Me
14. Songs