Woman E are back!
aaamusic | On 15, Apr 2011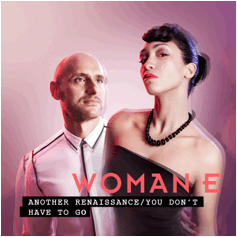 Track: Another Renaissance/ You Don't Have To Go
Single Release: 14th March 2011
Label: Animal Farm
"This dancey duo are living proof that opposites attract"
Mixmag
"It's a cracking track with the sort of chorus the new Saturdays EP could do with a few more of"
Popjustice
Woman E are back to shake things a little bit further by releasing  their double A-side second single Another Rennaisance/ You Don't Have To Go. The current tracks are the follow up to their debut single 'Few and Far Between' which came out late last year and garnered the band great attention. The single and is set for release on the 14th March 2011 through Animal Farm.
Dominatrix themed sex has its part to play in the naming of this act-on-the-up. The band is formed of: Ria Berlin (vocals), Uwe Doll (keyboards, production, song-writing) and Steve Rooney (drums). The band's early recordings, found their way to French Vogue's radar, voting them one of the best fashion records ever.
London Vs Berlin. These two cities may have a sordid history but they are now hubs of artistic licence and two of the best in the world for it. This new blend of intelligent, kitsch Pop will have you shaking in your boots but in the right kind of way.
Another Renaissance is the embodiment of strong creative friction. A song about making sense of a relationship, the moment of realisation that "rehashed, refried and repacked" solutions to old problems will not cut it. The lyric is about moving forward and being strong and the song is the same. Imagine early Madonna kissing Kraftwerk on a bed of subversive big chorus pop. Another Renaissance has the looks and the brains – you can dance like you mean it while not feeling insulted by the lyric. Second track You Don't Have To Go follows a more ballad route still with catchy-as-hell hooks, with a big heart-felt chorus, showcasing the band's diversity in sound. Another Rennaisance/ You Don't Have To Go will be released on Animal Farm on the 14th March 2011.
For live dates and music please check links be