Kid Carpet & dan le sac to play Repo Chick Parties Next Week
aaamusic | On 16, Apr 2011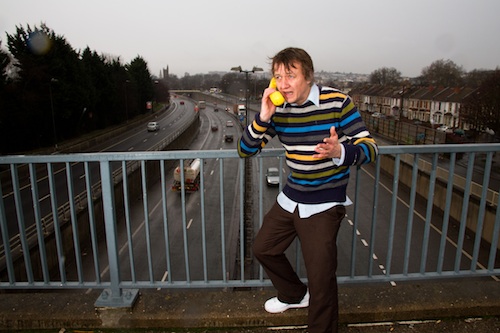 Bristol's "shit-hop-cartoon-pop" originator and cult indie star Kid Carpet has announced three special shows to celebrate the release of his Hollywood soundtrack and new album REPO CHICK.
Famous for his original, theatrical, comedic and smart live shows, the Kid excels in the live arena with his hotch potch of busted up samplers, drum machines, masks, props, altered toy guitars and plenty of surprises.
Check out the supporting cast below, including DJ sets from dan le sac at all dates.
The Social, London, April 19th:
Kid Carpet
Strange Billy the Saint & Bernadette Pike
dan le sac Vs iBetya DJ (Dj set)
Sombrero Sound System (Dj set)
Mother's Ruin, Bristol, April 23rd:
Kid Carpet
Strange Billy the Saint & Bernadette Pike
Pip Taylor
dan le sac Vs iBetya DJ (Dj set)
Oakford Social Club, Reading, April 29th:
Kid Carpet
Benin City
dan le sac Vs iBetya DJ (Dj set)
Outside:Inside DJ's
Kid Carpet
Strange Billy the Saint & Bernadette Pike
dan le sac Vs iBetya DJ (Dj set)
Sombrero Sound System (Dj set)
Mother's Ruin, Bristol, April 23rd:
Kid Carpet
Strange Billy the Saint & Bernadette Pike
Pip Taylor
dan le sac Vs iBetya DJ (Dj set)
Oakford Social Club, Reading, April 29th:
Kid Carpet
Benin City
dan le sac Vs iBetya DJ (Dj set)
Outside:Inside DJ's