Chibuku Shake Shake Friday 22nd April @ The Masque, Liverpool
aaamusic | On 18, Apr 2011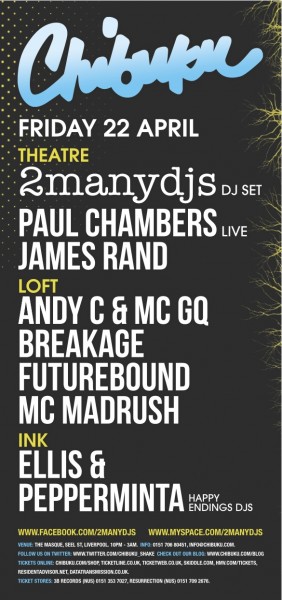 Hot on the heels of Mark Ronson's visit to Chibuku and the hallowed Masque venue is another of the enduring club's great old friends just 7 days after. It's a truly double whammy of Fridays which sees Belgium's party-exponents extraordinaire 2manydjs return to Chibuku for a very overdue visit. Don't forget this is the start of a huge Easter weekend and Chibuku is the only place for it to begin.
There's arguably no better room for them to show why they remain, after many years at the top, still right at the top; the intimate Funktion-One throbbing Theatre is the perfect stage for their seamless segueing of everything from electro-trash to banging techno, right back to cuts so rare you're lucky if you've ever heard them played out in a club before. Fellow Belgian Paul Chambers also plays live; this techno extrovert has been touring with the boys for over two years and now and is responsible for some beastly tracks, including dancefloor masterpiece Yeah Techno. Local lad James Rand holds court from the off and gets The Theatre fully charged.
Up in the Loft it's a case of batten down the hatches. Drum and bass remains one of Chibuku's most enduring sounds since the club began to up the ante many years back; since then pretty much every player has performed and Friday 22nd sees one of the scene's truly totemic leaders back: Andy C. The Ram Recordings co-founder has been plying his trade as one of the lynch pins of the scene (he set the label up in 1992!) and in October last year released his widely revered 5th Nightlife mix album. London's Breakage is a drum and bass, jungle and dubstep producer DJ from the Inperspective Records camp. He has numerous releases on Reinforced, Inperspective & Bassbin. As a producer he is seen as one of the best and most experimental: more recent releases have included lucid dreamscapes weighted with bass and soul, all part of Breakage's constant effort to realise new directions and ideas in his music. Liverpool's own drum and bass titan Futurebound stars too, with vocal support from MC Madrush.
Finally Ink sees Samizdat hero Andrew Ellis and FACT curator Heather Pepperminta hijack INK and make their debut with their Happy Endings party. Consistently one of The Shipping Forecast's busiest club nights just down the road from The Masque, you can expect banging, cross-genre dancefloor hits from M.I.A. to E.S.G., Devo to Danzig, R. Kelly to Biggie Smalls. Happy Endings is a sweaty disco for artfags and music nerds with added digital weirdness in the form of animated GIF projections, YouTube dancing, musical memes and mobile ringtone sets.
Chibuku – Easter Friday
Friday 22nd April
@ The Masque, 90 Seel Street, Liverpool, L1 4BH
The Theatre
2manydjs (DJ set)
Paul Chambers (live)
James Rand
Loft
Andy C & MC GQ
Breakage
Futurebound
MC Madrush
Ink
Ellis and Pepperminta (Happy Endings DJs)
More TBC
£18 / £16
10pm – 3am
Info – 0151 706 8045
Tickets:
www.chibuku.com/shop
www.datatransmission.co.uk/chibuku
www.skiddle.com
TicketWeb: 08444 771 000
Ticketline: 0161 832 1111
3B records: 0151 353 7027