Draw Me Stories – Oars & Becomes The Hunted
aaamusic | On 18, Apr 2011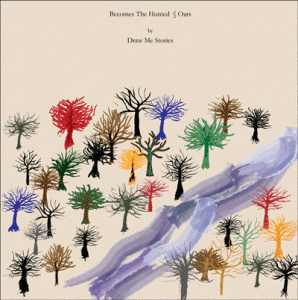 Draw Me Stories are a genuinely interesting band. Often touted as a folk band of sorts, this new double A-side sees the trio moving in a more progressive, post-rock direction – and it the result makes for a rather exhilarating listen.
The band recorded 'Oars & Becomes The Hunted' in Cardiff – where they're currently based – but the three members are originally from elsewhere: Cambridge, Tamworth and…Strasbourg.
Somebody (or some PR perhaps) once likened Draw Me Stories to 'Radiohead on speed.' Now, upon listening to this single, the comparison to Radiohead is fitting – but their experimentalism and post-rock urgency doesn't quite amount to Thom Yorke taking stimulating drugs (you can't really get more 'out there' than Yorke and Radiohead – just check out his dancing in the 'Lotus Flower' video and just imagine the results of him taking speed for creative purposes). But yes, there are some eerie guitar effects and quick-fire drum patterns that produce a similar, brooding atmosphere to Radiohead's 'In Rainbows'.
'Oars' kicks off with some speedy, confident drumming and understated sliding guitars, plus there's an understated groove buried behind the haunting melody of the chorus. There's also a sublime, meandering blues-meets-funk guitar interlude in the mid-section. This guitar segment, along with the overall vocal delivery and gentle guitar strumming/picking of the track, actually recalls the alternative folk-rock of the late, great Jeff Buckley (obviously with not quite the same impeccable singing range).
'Becomes The Hunted' is a bit more hectic than 'Oars', containing a quicker tempo. There are some jangly guitar parts, crashing symbols and thumping bass drums, and a more strained vocal style. The building climax of the track is post-rock, bordering on post-hardcore – the guitars get heavier and the vocals get more aggressive. Quite thrilling.
Included in the single release is a remix of each song. The 'You Love Her Coz She's Dead' remix of 'Oars' is, to be frank, horrible. Lairy, industrial electro (think the most frustrating parts of Nine Inch Nails meeting the post frustrating parts of Justice) with god-awful auto-tuned vocals. The 'Tex Tawain' remix of 'Becomes The Hunted' starts off as an intriguing dubstep version with an evil twist on the vocals – but the trance and electro tinged second half is fairly disappointing.
But don't let the underwhelming remixes put you off – the original singles are well worth checking out, especially for fans of experimental indie and alt-rock. I'm excited to hear what Draw Me Stories will produce next.
Author: Clive Rozario