TUNE BROTHERS CELEBRATE 15TH ANNIVERSARY WITH CAREER-DEFINING NEW ALBUM
aaamusic | On 18, Apr 2011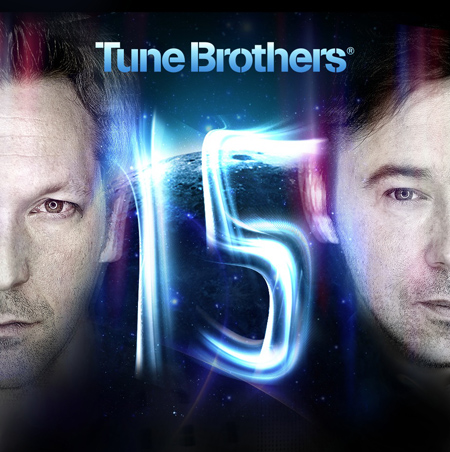 A huge happy birthday to the Tune Brothers! Markus Hägele and Matthias Kraus are celebrating fifteen years of working together as a phenomenal house duo with the release of their aptly titled new album, 15.
Founded in Stuttgart in 1996, Tune Brothers rapidly clambered their way to the top first in Stuttgart, and then the Germany dance pile. Global recognition soon followed, Tune Brothers career has taken them from Miami to Jakarta to the Netherlands and everything else in between. And no matter where they are, their ability to have the crowd eating out the palms of each of their hands is legendary. Not only that, their multimedia platform 'Housesession', which comprises a record label, radio show and live events, has provided them with a lasting legacy and innumerable fans from within the business.
The release of this new album is a chance for the pair to sit back and survey the empire they have created. 15 is a fitting monument to their efforts. They suspended all other work whilst the album was written and recorded to ensure their total focus was on this career-defining record.
The result is absolutely, undoubtedly a complete set in itself. It successfully brings in each club flavour, from storming electro to progressive tech and everything in between. Too many cooks spoil the broth, but two cooks makes for something so tasty you can't help but drool.
It's an incredibly rare album indeed where each of the 15 tracks sound like they will stand alone as a single. But for the Tune Brothers this is a genuine case of 'all killer no filler'. Vocal support comes from Lety, Polina Griffith and Alec Sun Drae as well as New Yorker Corey Andrew who features on deep debut single Dance Into The Fire.
Think of this less like an album, more like a house manual. It's a how-to guide for how to create an impeccably produced club album, without a hint of repetition or a moment to get bored. As anniversary celebrations go, this is certainly one to remember.
Tune Brothers – 15 is out from today on Housesession Records and exclusively available on https://www.beatport.com/en-US/html/content/release/detail/356933/15
The album will be available on all other online music retailers from May 3rd.
Tracklist
01 Into the Fire – Tune Brothers & Corey Andrew
02 I Feel (Thursday) – Tune Brothers
03 Play a Little – Tune Brothers feat. Alex Sun Drae
04 Big Surprise – Tune Brothers feat. Lety
05 The Alert – Tune Brothers
06 Don't Go – Tune Brothers
07 Hello Friday – Tune Brothers
08 Aggression – Tune Brothers
09 Beside Her – Tune Brothers
10 Good Feeling – Tune Brothers
11 Diamonds – Tune Brothers feat. Polina Griffith
12 Mamaschiba – Tune Brothers
13 Jump it Up – Tune Brothers
14 Disco – Tune Brothers
15 Piano – Tune Brothers
Tune Brothers – 15 Artist Album Mix:http://www.youtube.com/watch?v=TnBY1iXgKkk