Psychedelic Horsesh*it UK Tour + Debut Album 'Laced' (Fat Cat) – Released 16th May 2011
aaamusic | On 19, Apr 2011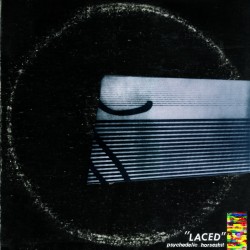 Psychedelic Horseshit
LacedGenre: –
Label: Fatcat
Release Date: 16.05.2011
Catalog Number: –
EAN/UPC: –
UK shows announced for early May
Psychedelic Horsesh*t bring their chaotic cocktail of protest folk, barbed garage punk, scrawny white dub, smeared psychedelia, free noise, tin-can electronics and shoegaze to the UK on a whistle-stop visit ahead a full tour in September.
28 Apr – London, venue tba
02 May – Brighton, Coalition with Best Coast + Spectrals
03 May – The Captain's Rest, Glasgow – tickets £4
05 May – The Deaf Institute, Manchester – tickets £5
06 May – *The Victoria, Dalston, London (w/ DJ Dog Dick + Sewn Leather) – tickets £5 *Venue change
The new album 'LACED' (FatCat,16th May) was recorded in a variety of basements, practice spaces, living rooms, and bathrooms using almost no amplifiers and a beat up 70's Teac reel to reel. Losing the caked-in distortion and aggression, whilst retaining a drugged density and adventurousness, it is cleaner and far more electronic record that sees Psychedelic Horsesh*t consistently stretching things out and breaking new ground.
"This wonderfully twisted album adds crunching electronics to the Ohioans' abrasive guitar blueprint." [The Fly]
"The most heart-poundingly great racket since that My Bloody Valentine covers record Comets On Fire never made" [Vice]
"Psychedelic Horsesh*t are the sh*tgaze frontrunners." [NME]