Those Handsome Animals live at Buffalo Bar
aaamusic | On 19, Apr 2011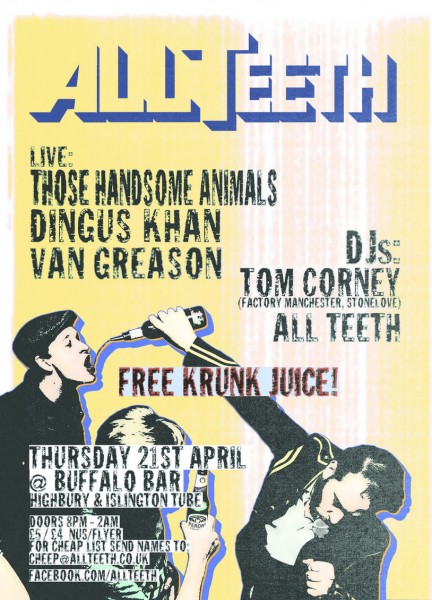 !!All Teeth this Thursday @ Buffalo Bar!!
Carrying on from are fantastic St Paddy's Day Party, All Teeth will be showcasing some truly pumped bands for you to get into and to have and to hold until death do you apart.
As always there's gonna be fuck loads of FREE KRUNK JUICE!!!
All Teeth world famous cocktail
It all kicks off at 8pm at the Buffalo Bar if you want to get on the £4 cheap list send your full names to CHEEP@ALLTEETH.CO.UK
See U Pon De Floor!
Those Handsome Animals
http://www.facebook.com/group.php?gid=299651007821
Those Handsome Animals began life in January 2010 when two ex Retro Crooks, Gary Batt and Thomas Millett joined Gavin Hankins from the Waterloos. Together they fuse the sounds of The Cure, The Pixies, Orange Juice and more current bands such as Art Brut into a form of 80's themed modern pop.
Van Greason
http://www.facebook.com/pages/Van-Greason/114408335296372
Van Greason are a four piece rock band from North London:
"Sharp new wave music played in a high energy angry punk style. It's like the coming together of Talking Heads and At The Drive In."
-www.mewbox.com
"Disciples of Television, Led Zeppelin and The Strokes, Van Greason create gleaming nuggets of up-beat indie with a nice post punk bounce."
-spoonfed.co.uk
Dingus Khan
http://www.facebook.com/pages/DINGUS-KHAN/110478822302121
Made up from members of old All Teeth favorites Elfred and the Uber Peas, Dingus Khan are the same nutters but with extra ukulele and organ!
As well we've got the amazing DJ talents of…..
Tom Corney (Factory Manchester, Stonelove)
and the All Teeth DJs
Playing:
Freshest Hits
Indie/alt Classics
Squidgy Beats
Hip-Hop
Wedding Disco Anthems
INFO
All Teeth
Thursday 21st April 2011
@ Buffalo Bar
259 Upper St
Highbury & Islington
N1 1RU
Live:
Those Handsome Animals
Dingus Khan
Van Greason
DJs:
Tom Corney (Factory Manchester, Stonelove)
All Teeth
+ FREE Krunk Juice!!!
open 8-2am
damage: £5 / £4 cons/NUS/flyer
Send names to CHEEP@ALLTEETH.CO.UK to get on the cheep list
Web links:
Facebook Event
All Teeth Myspace
All Teeth Twitter
FACEBOOK
If you would like to get on the £4 concession list for this Thursday's party please send the full names to cheep@allteeth.co.uk before 2.00pm Thursday 21st April.