MAZES 'Summer Hits' (FatCat, 20th June). Catch them live @Camden Crawl, Great Escape, Stag & Dagger.
aaamusic | On 21, Apr 2011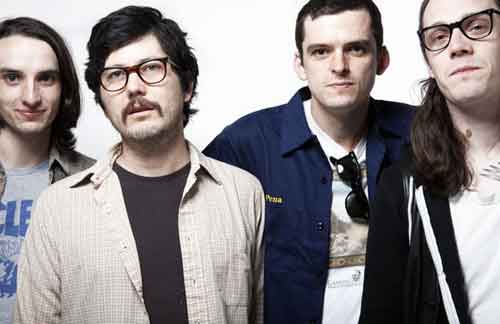 Mazes jump into summer with a fizzing 1'56' worth of pure 'Summer Hits' on the 20th June. Their effervescent just-out debut 'A Thousand Heys' – from which it hails – has enjoyed an extremely enthusiastic reception and following their first full UK tour supporting Dum Dum Girls the band can be found at the Camden Crawl, Great Escape and Stag & Dagger in the coming weeks.
Listen to 'Summer Hits' on Soundcloud here http://snd.sc/i7Kepb
'You wait years for a British four-piece in thrall to early-90s US alt-rock, and then two come along at once. Hot on the heels of Yuck come Mazes…There's none of the narcotised throb of Yuck here: Mazes play with real vim, and aren't inclined to let their songs loiter unnecessarily. What the two bands share, though, is an ear for hooks, and there could easily be half a dozen singles from A Thousand Heys' ****Michael Hann, The Guardian
'Without even trying, Mazes have the tunes and insouciant charm to win a permanent place in any sane person's list of most-cherished records.'Pat Long, NME
'An impressive debut that crackles with vitality. Hugely promising' Stephen Worthy, ****Mojo
'Assured confidence… a lesson in not following the crowd you are in' 8/10 Stuart Stubbs, Loud & Quiet
'A brilliant illustration of brains as well as brawn' ****Ben Homewood, The Fly
'Buddy Holly-goes-Ramones surf-pop gems' Martin Horsfield, Guardian Guide
'This is really is a breath of fresh air' ****Artrocker
'A fizzy, fuzzy debut… such roughhouse charm that you stop playing spot the reference and get swept up by the cheek of lines like "I get off trains and wave/ Like Beatles at JFK"' ***Garry Mulholland, Uncut
'Exudes vigour and vibrancy' 8/10 John Freeman, Clash
'Lo-fi freshness' Daily Mirror
'What more could you want?' Dazed & Confused
Catch Mazes Live! – at Camden Crawl, Great Escape, Stag & Dagger…
27-April Manchester Deaf Institute (supporting Times New Viking)
28-April Sheffield Queens Social Club (supporting Best Coast)
29-Aprik York, Stereo
30-April Live at Leeds
01-May Camden Crawl@ Koko
14-May Great Escape@ Green Door Store
19-May Stag & Dagger London @ Village Underground
21-May Stag & Dagger Glasgow @ Captains Rest
Recorded last November on an old lightship moored on the Thames opposite the Millennium Dome, 'A Thousand Heys' (FatCat, 11th April) captures the excitement and fizzing energy of a band still in day-jobs with everything in front of them. And, by taking 10 instead of the usual one – maybe two – days to record, it delivers that energy while sounding like one of the freshest, most life-affirming collections any of us are going to hear this year.
Mazes appreciation of the D.I.Y ethos and sense of community amongst their peers – Pens, Cold Pumas, Male Bonding, Spectrals – stems from the attitude many of the acts they admire embraced. Jack runs Suffering Jukebox whilst Conan, also a member of Graffiti Island, is CEO of Italian Beach Babes, labels that are very much a part of what makes the UK scene so vibrant at the moment. 'A Thousand Heys' sees Mazes dart in and out of their respective record collections with the rapacious enthusiasm of wide-eyed kids in the proverbial sweet shop. Embellished withPavement's wayward clatter, Buzzcocks' intensity, and Big Star-esque nihilist lyrics, they can sound like a British Invasion group: Witness the syncopated McCartney bassline that kicks in on 'Surf & Turf', and it's cheeky opener 'I get off trains and wave, like Beatles at JFK'.
Check mazesmazesmazes.tumblr.com for more.
Mazes is: Jack Cooper – Vocals & Guitars/ Jarin Tabata – Guitars/ Conan Roberts – Bass/ Neil Robinson – Drums.