Stagecoach announce full UK tour in June New AA side single released via This Is Fake DIY Records on May 30th
aaamusic | On 21, Apr 2011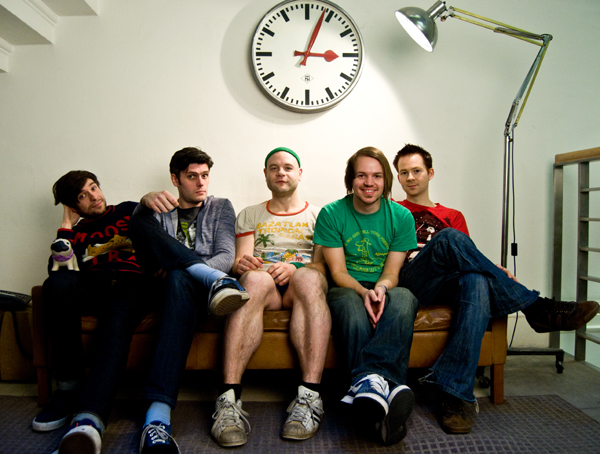 Stagecoach melt faces at fifty paces with junk-pop juggernauts about pizzas, chess leagues, and Buffy. This plucky 5-piece from the Surrey Hills are back on the road in June with a full UK tour in support of their new AA single, 'Tony Hawk/Jonah Lomu'. The single will be released via This Is Fake DIY on May 30th, before the full tour kicks off in London on June 2nd where the release shall be served piping hot in limited edition pizza box packaging.
You may have already heard Stagecoach through your radio, championed by Huw Stephens who span previous single 'Map To the Freezer' exhaustively on both his Radio 1 shows, also naming the band as one of his introducing acts of the year. Failing that, perhaps you've heard them through your television set, featured in BBC One's 'Gavin and Stacey' Christmas & New Year specials and season 2 of 'Skins', while the band's tracks also feature on the international trailer for this year's breakout British comedy 'Killing Bono'.
Returning to the studio this year the band worked with producer James Kenosha (Pulled Apart By Horses, Dinosaur Pile-Up), crafting this superb AA side single. Speaking about about the two songs, frontman Luke Barham details what is represented through the sporting personalities Tony Hawk and Jonah Lomu;
"Sitting somewhere between The Replacements and Blur, Jonah Lomu is a song is about the school bully and that feeling of however old you get it seems they are always watching over you. Jonah Lomu seemed like a funny character to represent the bully in the song. I have zero interest or knowledge of Rugby but he's just a such a character, almost cartoon like in appearance. On the other hand, Tony Hawk is a song about so many kids from privileged backgrounds automatically go to Uni without really giving a shit. It's about a lack of respect for that opportunity and just getting stoned and playing Tony Hawk on the Playstation all day, "Maybe it's not wrong if he repeats year 1?"
With festival appearances already confirmed at the likes of The Great Escape, 2000 Trees and The Underground Festival, the band's UK tour adds to a busy summer schedule for the band. Those wanting to get hold of the pizza box single, though, will do best to join the band in London where it first goes on sale limited to just 50 copies!
April

30 – Live at Leeds
May

12-14 – Brighton, The Great Escape
27 – Sheffield, SAWA
June
02 – London, Camden Barfly
03 – Cheltenham, Frog and Fiddle
04 – Yeovil, The Orange Box
05 – Northampton, The Labour Club
08 – Birmingham, The Flapper
09 – Hartlepool, Clarendon
10 – Darlington, Kong @ Inside Out
11 – Stoke, Sugarmill