Sweetheart "The Avenue" Released May 30
aaamusic | On 21, Apr 2011
Sweetheart look and sound just as the name suggests, in reality they're cynical, vulgar, angsty and wallowing deep in the fountain of youth. Lyrically they fantasise violently on life  but their songs are deceptively smooth, hooky enough to leave you trying to work out where you've heard that song before but dark enough to leave an echo in your ears that's almost impossible to shake.
'The Avenue' is the first in collection of songs to come from Sweetheart as part of a singles club for 2011. A full album is inevitable, but for now a cursory glance online will reveal just how many songs this Southampton troupe have, mostly in acoustic form but shamelessly out there for people to get an insight into the minds of what has been described by their producer as a bunch of 'potentially menacing bastards'.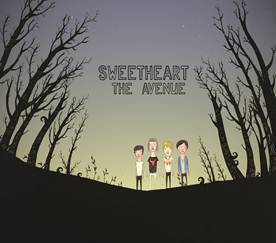 In the words of Harry, Burgess, keyboard player and singer…
'The Avenue is the antithesis of the ethic force fed to us – the largely brain dead mass, by countless glossy blockbusters, tween power ballads and "talent" competitions courtesy of Simons Fuller and Cowell that striving towards your "Dream" (The dream of the all singing, all acting, all dancing star within us all who is destined fame, fortune and mass adulation – a narcissists paradise) is the superior gameplan for a life worth living. An overtly ironic indulgence in pop hooks aplenty amidst a flurry of demotivational lyrics to any of you self-obsessed dreamers who, in the years to come, will all inevitably reach the point of no return when you will all properly realise the absolute futility of your grotesque aspirations'
The single also features two B-sides, 'The Beast' and 'I Don't Have The Arms' to give you an idea of what's to come from Sweetheart, and if that's not enough for now you can delve deeper into their world on Facebook where you'll find videos of them previewing new material from their…bed.
www.facebook.com/sweetheartband