WYE OAK: New Video, Single & European Headliner Tour!
aaamusic | On 21, Apr 2011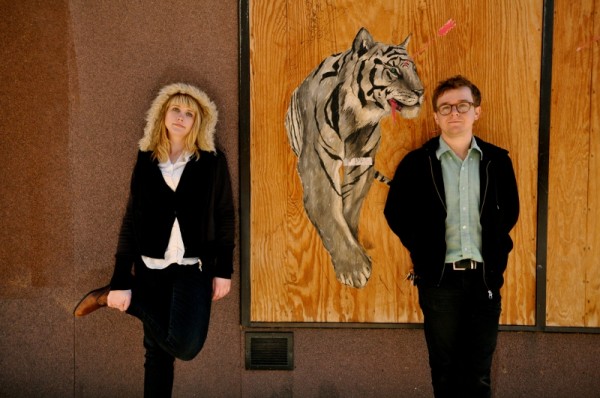 WYE OAK
NEW VIDEO, SINGLE & EUROPEAN TOUR!
DOUBLE A-SIDE SINGLE
'HOLY HOLY/FISH' OUT JUNE 20TH
(CITY SLANG)
www.myspace.com/wyeoak● www.cityslang.com
"I love Wye Oak. My 6music team & I have plans to persuade them to be our house band"– Lauren Laverne, Grazia
"Sinewy alt-rock rubs shoulders with lysergic, fairground pop and warped blues. 4*s"– Q
"Wasner's satin vocals lift, Stack couples a key-driven pulse with splashes of delay and crash cymbal, and what we're left with is fireworks of a dozen colors. They have our attention from beginning to end." – Pitchfork
"As unexpected as it is thrilling"– The Observer
"Awash with beguiling harmonies and folk-shoegaze textures. 4*s"- Uncut
After the release of their widely applauded beautiful new album 'Civilian' on City Slang last month, Baltimore's WYE OAK have confirmed more tour and release plans.
Having already visited the UK twice this year for their (sold out) first ever UK headline show, Cold War Kids tour and Johnny support slot, they're to return for a European headline tour in June – see dates below.
The tour will be accompanied by the release of a double a-side single of album tracks 'Holy Holy' and 'Fish', out on June 20th through City Slang. Accompanying the release is a stunning shadow-puppet based video for 'Fish', created as a collaboration between Baltimore artists Michael O'Leary and Katherine Fahey.
Wye Oak – Fish (Official Video) from City Slang on Vimeo.
The tour dates are as follows:
JUNE 4 FRANCE PARIS LA FLECHE D'OR
JUNE7 NETHERLANDS AMSTERDAM PARADISO
JUNE 8 BELGIUM GHENT VOORUIT
JUNE 9 GERMANY HAMBURG MOLOTOW
JUNE 10 NETHERLANDS GRONIGEN VERA
JUNE 11 GERMANY MUNICH ATOMIC CAFÉ
JUNE 12 AUSTRIA VIENNA CHELSEA CLUB
JUNE 13 GERMANY FRANKFURT SINKKASTEN
JUNE 14 GERMANY BERLIN FESTSAAL KREUZBERG (CITY SLANG SHOWCASE)
JUNE 16 UK LONDON HOXTON BAR & KITCHEN
Wye Oak wrote what became Civilian between December of 2009 and July of 2010. The songs "are, as a whole, about aloneness (the positive kind), loneliness (the horrible kind), moving on, and letting go (of people, places, and things)," lyricist/guitarist Jenn Wasner reveals.
After recording and mixing the previous two albums themselves, Wye Oak brought in mixing engineer John Congleton (St. Vincent, Shearwater), who played a pivotal role in the sound of Civilian. "JC definitely pushed us into some exciting and sometimes scary new territory," multi-instrumentalistAndy Stack says. "It was the most that Jenn and I had ever relinquished control of our music to someone else, but it gave us a chance to step back and see the big picture, whereas on previous recordings we got embroiled in the technical details."
Civilian is a kind of 21st-century folk music, imbued with dense shoegaze guitars, nearly melodic rhythms, and impeccable splashes of electronic colour. Without leaning on conventional structure, the songs beguile with fascinating chords and melodies, Jenn's voice and riveting lyrics, mesmerizing rhythms, and an intoxicating aural landscape. Just as good writing has meaning between the lines, Civilian has meaning between the sounds: the combinations of harmonies, timbres, and words summon vivid and ineffable associations just beyond reach.
Jenn sums up the meaning of the album saying, "this collection of songs is called Civilian because I believe everyone wants to be normal, but no one truly is."