THE TRAVELLING BAND Announced Free Download Single + UK Tour
aaamusic | On 26, Apr 2011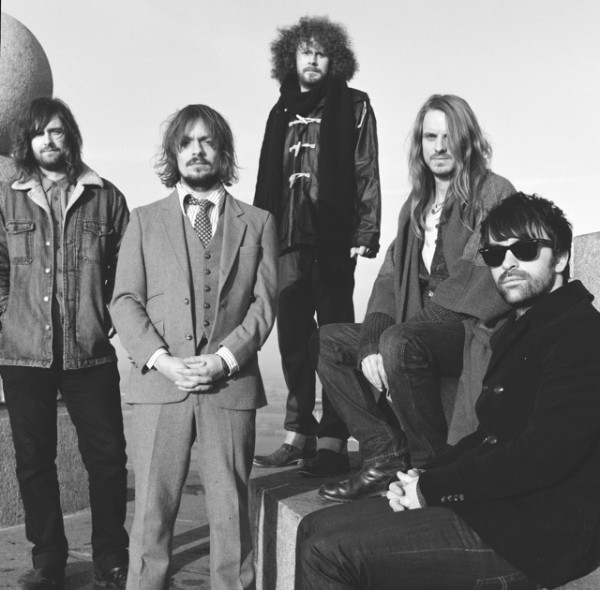 THE TRAVELLING BAND
precede eagerly awaited second album
with new single 'Fairweather Friends'
– out 23 May 2011 on Cooking Vinyl –
and announce May / June UK Tour
Free Download from: http://www.thetravellingband.com/
"The Travelling Band take me back to my musical roots. Marvellous music to savour and enjoy" Michael Eavis, Glastonbury Festival
On 23 May 2011 The Travelling Band precede the release of their second album 'Screaming Is Something' with a download only single. Called 'Fairweather Friends' (Cat. No.: FRYDL461), the single is the opening track off the new album, and is backed with 'Rise Fast Fall Slow'.
The Travelling Band's shimmering blend of cosmic-country-pop, understated psychedelia, vocal harmonies and nu-folk has made them one of the most talked about artists to emerge from the Manchester music scene – "If you consider the term Mancunian Americana to be an oxymoron try listening to the Travelling Band. Brilliant" Marc Riley BBC 6 Music.
A recording project in New York City in 2006 led a collective of like minded souls to record what was to become 'Under The Pavement', their debut studio album. Released two years later, the record was very well received by the UK media, gaining BBC Radio 6 'Album of The Day', BBC Radio 2's 'Single of The Week' and a featured song in the Ian Dury biopic 'Sex Drugs & Rock n Roll'.
Although, as The Sun says, "This debut blurs the folk/rock boundaries, delicately intertwining sensitive lyrics with accomplished folk vocals and jangly instrumental accompaniments to form a tapestry of glittering whimsy", their 10 track second album demonstrates a giant leap forward for the band. Set for a 30 May UK release, 'Screaming Is Something', which isn't quite soul music, isn't quite folk, isn't quite pop, country or rock, is being supported by a May / June UK Tour (dates below and ticketing details on the band's website).
MAY 2011
17 London, The Nest
19 Manchester, Deaf Institute
20 Leicester, The Donkey
21 Cheshire, Fom Festival
23 Sheffield, Soyo
24 Preston, New Continental
25 Clitheroe, The Grand
26 York, The Basement
27 Chester, Telford's W'house
30 Glasgow, King tuts
31 Edinburgh, Electric Circus
JUNE 2011
1 Newcastle, The Cluney
3 Wychwood, Festival
4 Glastonbury, Sunrise Festival
5 Co Clare, Ireland, Surf Pro Festival
7 Cardiff, 10 Feet Tall
8 Birmingham, The Yardbird
9 Bristol, The Thunderbolt
10 Leeds, Brundell
"An inventive brand of guitar-laden country folk pop with a cosmic aesthetic and sprinkles of trademark Manchester's musical lineage." Clash magazine
With a democratic approach to songwriting, similar to that of Teenage Fanclub before them, The Travelling Band, aided by their 2010 'Sundial' anthem (featured on the album), have become a firm favourite on the thriving British festival scene. After winning the 'Glastonbury Emerging Talent Competition' in 2008 they have performed at Glastonbury, Wychwood, Larmer Tree, Kendal Calling, Wizard, End of Road, Llama, Sunrise, Moseley Folk, Summer Sundae, Mad Ferret, Hop Farm, Hungry Pigeon and Beathearder. Whilst international festival appearances include CMJ (USA) , MIDEM (France), NXNE (Canada), Tbilisi Open Air (Georgia, N.Europe) and L'es Nuit D'o (Montpellier, France).
"Sweet harmonies, strong song writing and an unforced take on country rock make for a beguiling debut" Independent on Sunday
The Travelling Band on the recording of 'Screaming Is Something'
The album was recorded in a few different locations but most of the recording was done in a converted church called Kinclochspelve on the Isle of Mull in Scotland. It was so desolate and tranquil on Mull and that gave that session a real focus. Producing the album ourselves was made more interesting and challenging by being so far away from anywhere and we encountered plenty of technical problems that we simply couldn't do anything about as we were cut off from the rest of the world. There had been some scepticism from within the band at first whether we could pull off such an ambitious location recording but once we scoped it out we realised it was going to be a lot fun.
The Travelling Band's carefully honed mixture of folk, country, and understated psychedelia came as a result of their involvement in earlier acts … The players are:
Adam Gorman: Vocals, Acoustic Guitar, Pump Organ, Accordion, Banjo, Harmonica, Percussion, Keys
Jo Dudderidge: Vocals, Keys, Acoustic Guitar, Synth, Percussion
Steve Mullen: Vocals, Electric Guitar, Acoustic Guitar, Banjo, Percussion
Chris Spencer: Bass
Nick Vaal: Drums, Percussion
The tracklisting for 'Screaming Is Something" is:
1 Fairweather Friends, 2 Screaming Is Something 3 Sundial, 4 Battlescars, 4 Magnetic Anywhere, 5 Under The Pavement, 7 Hindsight, 8 Horizon Me And You, 9 One Dime Blues, 10 On The Rails
"Manchester's great next hope? They ought to be." Metro
http://www.thetravellingband.com/
http://twitter.com/TravellingBand
http://www.facebook.com/#!/group.php?gid=2361572706&ref=ts
http://www.myspace.com/thetravellingband