The Masque Tenth Birthday Party with Calvin Harris Sunday 1st May @ The Masque, Seel Street, Liverpool
aaamusic | On 27, Apr 2011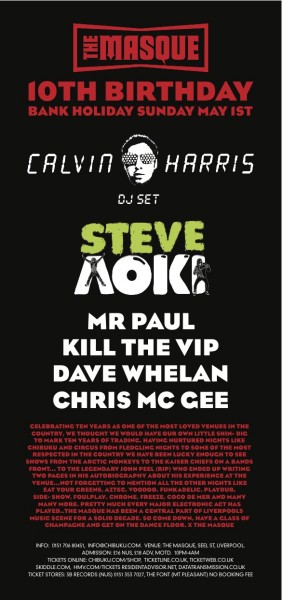 It's time to get ready to blow out ten huge candles as The Masque celebrates a decade worth of partying on Seel Street. Having helped transform the city's music manifesto, the venue – post-refit – is now Funktion One equipped and ready to continue as the place every DJ wants to play at and which hosts some of the UK's most iconic club nights.
Celebrating ten years as one of the most loved venues in the country is an important milestone for The Masque. Having nurtured nights like Chibuku Shake Shake and Circus from fledgling parties to some of the most respected in the country, the venue has been lucky enough to see shows from the Arctic Monkeys to the Kasier Chiefs on the bands tip over to the legendary John Peel (RIP) whose Chibuku birthday set is the stuff of legend. John ended up writing two pages in his autobiography about his incredible experience at the club. A great many other parties have taken place, not forgetting the likes of Eat Your Greens, Aztec, Voodoo, Funkadelic, Playdub, Sideshow, Foulplay, Chrome, Freeze, Codo de Mer and many more too. Pretty much every major electronic act has played in one of the three hallowed rooms during the last decade, helping to make the venue a central part of Liverpool's thriving club scene and one of the most revered in the UK, for clubbers, DJs and live acts alike.
Chart-topping young legend and DJ-god Calvin Harris headlines the party. Equally happy rocking huge international festivals or dance floors across the world, Calvin is one of the scene's greatest entertainers who quite simply knows how to rock any crowd into absolute mayhem. Having remixed everyone from Passion Pit to Kaiser Chiefs – as well as achieved huge acclaim for Dance Wiv Me – Calvin is one of the UK's most enduring stars, and his DJ-set is all set to be the stuff of legend.
Miamian Steve Aoki also stars, famed for his jacking, high-voltage and dance-floor electrifying sounds. The Dim Mak Records producer has remixed many huge names including Lenny Kravitz, Bloc Party, Snoop Dogg, Duran Duran and Michael Jackson, and has released music from MSTRKRFT, The Klaxons and Mystery Jets.
Support comes from one of Chibuku's own residents, the rather brilliant Mr. Paul, whose own night, Discoteca Poca, is one of the city's best small nights. Kill The VIP's two esteemed deck demons, Juice FM's Dave Whelan and Chris McGee, also feature; their Bad Format night rocks it week in, week on across the other side of Liverpool and their night makes its debut for The Masque's tenth birthday.
The Masque Tenth Birthday Party – Sunday 1st May @ The Masque, 90 Seel Street, Liverpool, L1 4BH
Calvin Harris (DJ Set)
Steve Aoki
Mr Paul
Kill The VIP
Dave Whelan
Chris McGee
£18 / £16 NUS/advance
10pm – 4am
Info – 0151 706 8045
www.chibuku.com
Tickets:
www.chibuku.com/shop
www.datatransmission.co.uk/chibuku
www.skiddle.com
TicketWeb: 08444 771 000
Ticketline: 0161 832 1111
3B records: 0151 353 7027