The Wombats – Proudly Present This Modern Glitch
aaamusic | On 30, Apr 2011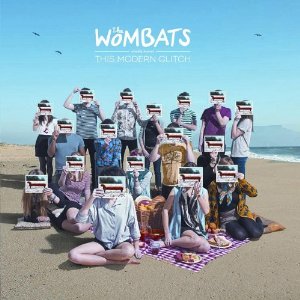 After one of the biggest music magazine described the last Wombats album "…This Modern Glitch" "a triumph of mediocrity" giving it 4/10, I cannot be silent, I must reply.
Even worse they judged as "awful" one the best lyrics ever written in this new decade, and I'm not exaggerating if you think of the fragility and beauty of a verse like "Please allow me to be your antidepressant/I too am prescribed as freely/As any decongestant" that describe a real hurt inside a young soul and not a whim of a rich spoiled child. So please be careful when you talk about feelings.
Apart from that, The Wombats show a new maturity in songwriting, experimenting new sounds, that I agree, can sound a bit weird to those are used to listen to "Let's dance to Joy Division", but you know, people usually grow up, especially from 22 to 26 and it's sure that he who stops is lost.
Maybe their synth-led music can be not appreciated, but it's about tastes and not the objective quality of this album.
So, objectively speaking, the band composed this work in four years, facing Murphy's crisis and the result is a complex but coherent work. Obviously lyrics are about personal life and I think that has to be praised, because it's not easy to show their own inner side, but apart from that, if they won't be songs they could be decadent poems about modern life and diseases.
As a matter of fact the first song is called Our perfect disease and they are trying to set them free from their demons aiming at going back to Tokyo, as Tokyo (Vampires and Wolves) states, so it seems a concept album about the pursuit of a sort of serenity.
So I'm very sorry that this album could break the peace of some sensitive people, but that's it, so wake up and welcome to the real life.
Musically speaking, these three guys are very good polystrumentists, Matthew Murphy sings and play synth and guitar, while Dan Higgis goes from drums to synth to piano and Tord Øverland-Knudsen plays bass and cello (as you can see in the acoustic version of Anti-D), so even if they are only three they can perform as they were six, and this versatility is well shown in arrangements. In fact Anti-D is based on a string tapestry while Jump into the fog has a brilliant synth intro. Also they are excellent in writing powerful refrains, made stronger by their three voices marking a single one together, and sudden suspensions that give a short break only to make the next verse most effective.
So those new songs are definitely worthy of a headline slot instead of a mid-afternoon one.
10/10
Author: Roberta Capuano