Twin Atlantic Debut Album 'Free' out May 2nd On Red Bull Records
aaamusic | On 30, Apr 2011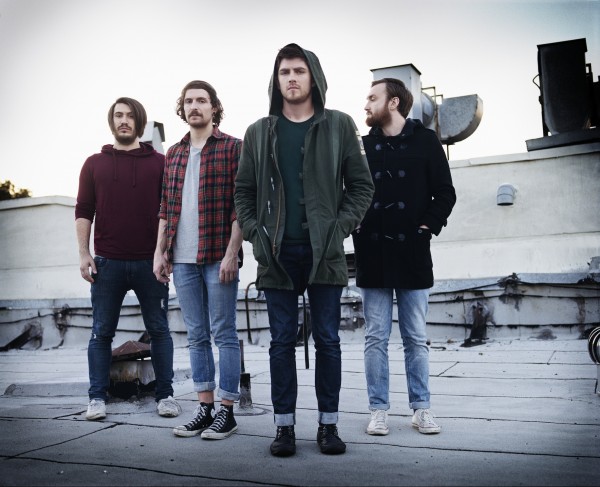 When Glasgow's Twin Atlantic released their 2009 mini-album, Vivarium, it immediately found an awestruck audience. The reviews were uniformly ecstatic. Grand, sweeping and eloquent, it was a collection of songs with a heart and soul, crafted by passion and informed by staunch lyrical and musical frankness. It set Twin Atlantic on a rollercoaster – one that has led, now, to the release of their full debut, Free, on Red Bull Records, an inspiring collection of songs full of ambition, pain, belief and soul. In a world of music dominated by talent show winners, mass-marketed bands and meaningless music, here, finally, is a band in which to invest your heart.
Formed in 2007 in Glasgow, and infusing their music with their Scottish heritage, Twin Atlantic found themselves caught in a whirlwind in the months that followedVivarium's release. Support slots with the great and the good – from blink-182 to My Chemical Romance and The Gaslight Anthem – followed tours the length and breadth of Britain, Europe and America. Interviews, photo-shoots, magazine articles and newspaper pieces amounted to a blur of excitement and hype. "We had three years where we've had this barrage of dream scenarios which we grasped with two hands," says frontman Sam McTrusty.
But, in the grasping, Twin Atlantic worried they had strayed from the ethos and ideals with which they had started their band. "We suddenly thought, 'What are we doing?'" adds McTrusty. In that moment of realisation, Twin Atlantic did what only the best bands do. They rediscovered their love for music and for pouring themselves, their feelings, fears, hopes and dreams into it. The results are their brilliant new album. "This band was meant to be based on integrity," says McTrusty. "We wanted there to be a brutal honesty in the lyrics. I think we've done that."
The quest to deliver authenticity in their music led them to the influential producer Gil Norton ("a fucking dude-and-a-half," according to guitarist and cellist Barry McKenna) with who they teamed up in the Red Bull Studios in Santa Monica, California at the end of 2010. "We really trusted that he could help us make an honest record because he's already achieved that with other bands like Pixies and Foo Fighters early in their careers. You can hear the genuineness in the bands he's worked with."
And with Norton, they set about crafting an exceptional album. "I was unbelievably excited to be working with Gil – he's been at the helm of a handful of my favourite records, including The Colour And The Shape which single-handedly made me decide that I needed to play in a band," says drummer Craig Kneale. "When we got in the studio with him, it was just a complete dream. We're so confident in each of the songs, and there must have been about 100 points in the studio where we would listen back to something and all get goosebumps."
And throughout, that all-important sincerity was there. "We can hold our heads high and say we did exactly what we wanted, and exactly how we wanted. At no point have we compromised as a band, as musicians or as people," says McKenna. "I think all great music has to be truthful and we have certainly achieved that, to one another and collectively outwards."
Free is an album of experiences. Having had their horizons broadened by touring the UK, Europe and America, McTrusty, in particular, spent time gazing from aeroplane and van windows fearing the world he was seeing was becoming a more uniform place. "We haven't written a political record," he says, "but there are issues in there like globalisation because that's something that freaks me out. Perhaps that's come from touring and feeling that everything sometimes seems the same."
It was a train of thought that unfurls masterfully throughout the record. "There are songs about how the media and big corporations manipulate and mould your opinions," he says. "You end up becoming a lesser version of yourself as a result." But if this is a record that takes a more worldly view than before, it is still one that remains steadfastly personal too – yet it's one that could be personal to all their fans. "Sam discusses a lot of issues not only personal to him, or even the four of us, but to the modern generation," says McKenna. "Many people will be able to relate to these songs, and hopefully they will." "Lyrically these are not my stories," adds bassist Ross McNae, "but I do feel more of an attachment to some of the messages within certain songs. I can personally associate more with the lyrical content of these songs."
Musically, too, they were ambitious. Forging on from Vivarium's expressiveness, Twin Atlantic wanted to make an album that was both vast and encompassing. "There are love songs and relationship songs, there are some with a party vibe, there are some that are weird, heavy and grungey pop songs," says McTrusty. Hence Free's stunning vision, one built on intricate songwriting aimed at the emotional core of its listeners. In each track, in each guitar line or beat, each lyric or phrase, it's an album in which the band's hearts beat and their souls shimmer. You can hear such personality in even the simplest things: the fact that McTrusty's Scottish accent shines through is just one. "Why," asks McTrusty, "would you tell a personal story in anyone else's voice but your own?"
But, most of all, the album has an emotional honesty that speaks straight from the heart.  In all its twists and turns it embodies its creators. "I don't know if we could live with ourselves if we were to make a song that didn't have the four of us in the music," says McTrusty, before McKenna adds:  "Personally the only thing I wanted to achieve from this whole process is an album the four of us could stand by and invest ourselves in. We have done that."
And it's because of music like this that the sense of expectation around Twin Atlantic is developing rapidly. This brilliant record, one of the most anticipated of the year, has been tipped by tastemakers and fans alike. If Vivarium left the band poised for greatness, 2011 will be the year in which they attain it.
"Music's been dumbed down and homogenised. There are lots of people who don't believe in it anymore. But we've made a record with substance," says McTrusty finally. "We're giving people something to believe in again."
In support of this release they are also undertaking a UK tour:
27-Apr-11 Belfast Speakeasy
30-Apr-11 Aberdeen Lemon Tree
1-May-11 Inverness Ironworks
3-May-11 Newcastle Academy 2
5-May-11 Manchester Academy 3
6-May-11 Glasgow Barrowland
7-May-11 Leeds Cockpit
8-May-11 Nottingham Rock City
10-May-11 Birmingham Academy 3
11-May-11 Bristol Fleece
12-May-11 Southampton Joiners
13-May-11 London Kings College