Truck Festival add Young Knives, Blessing Force acts and more
aaamusic | On 08, May 2011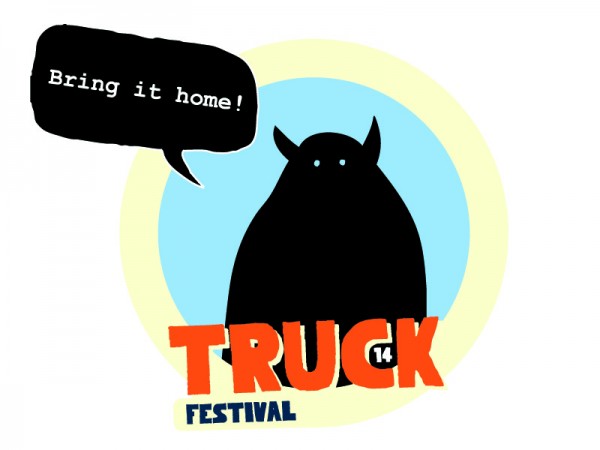 TRUCK FESTIVAL
HILL FARM, STEVENTON, OXFORDSHIRE
22nd – 24th JULY 2011
Young Knives, Liam Finn, Pete & The Pirates, Electric Soft Parade, ODC Drumline with Coloureds, Durrty Goodz, Rhosyn, Wild Swim and Solid Gold Dragons for Truck 14
Joining Gruff Rhys, Bellowhead, Graham Coxon, Saint Etienne, John Grant, Truck All-Stars, Philip Selway, Edwyn Collins, The Go! Team Johnny Flynn and many more
Blessing Force present Saturday's programme on newly expanded Last.fm Stage
Super Trucker tickets on sale
And finally…look out for a hairy and horned behemoth, the Truck Monster is on the loose!
With Truck Festival's folkier, younger, greener and mysteriously beardier brother Wood Festival just over a fortnight away, Truck HQ is a buzzing hive of activity at the moment. As the final arrangements are made for the first festival of the summer from Truck, the team are also busy working onTruck 14 taking place this July at Hill Farm in Steventon. Before the Truckers decamp to Wood for a weekend of fully sustainable, folk tinged, family focussed fun (with a pit stop at The Great Escape music convention in Brighton next weekend where Robin Bennett will be discussing the history of Truck Festival in a case study session), they've got some more acts to announce for this year's Truck.
Oxford's finest adopted sons, Young Knives, kept it intimate playing in the Truck Store on Record Store Day but they will no doubt bring out the big guns and get expansive when they play the Truck Stage right before headliner Gruff Rhys on the Saturday night of the festival. On the back of yet another fine album, Ornaments From The Silver Arcade, Truck are very pleased to welcome back their good friends for the first time in several years.
You haven't been able to open a magazine (except perhaps Gardener's World) for months now without reading gushing commentary on Oxford'sBlessing Force scene/community/thing but it's not just talk, the collective easily live up to the hyperbole with some amazing bands and artists under their umbrella. Over the years, Truck has booked various incarnations of the acts who now form the collective to play the festival but this year, the entire Saturday programme on the newly-expanded Last.fm stage will be given over to Blessing Force talent. Joining already announced Chad Valley, Pet Moon, Trophy Wife and Jonquil will be:
ODC Drumline with Coloureds – Oxford's all-star drum clinic comprising members of Komrad, This Town Needs Guns, Youthmovies and Hreda go head to head with digital terrorists Coloureds.
Durrty Goodz – Goodz is without doubt the most promising MC the UK underground has produced in the last few years. With a sharp tongue, super-fast rhyming ability and clever lyrics all eyes are on Goodz right now.
Rhosyn – "Orchestral Pop that sits somewhere between Bat For Lashes and Dirty Projectors" (Mercury Prize Blog)
Wild Swim – sprawling and pastoral glitch infused indie from the same family as Hood, Arthur Russell and Wild Beasts.
Solid Gold Dragons – debut performance from Sam Scott's (ex-Youthmovies/Jonquil) solo project.
The Last.fm Stage returns to Truck for the second year and will also be the home to performances on the Sunday from Reading's Pete & The Piratesand long-time Truck favourites Electric Soft Parade. Liam Finn has also been confirmed for the Transgressive Records curated bill on the Friday on the Clash Stage.
In other Truck news, rumblings of the existence of a hairy and horned behemoth strolling the streets can be confirmed – the Truck Monster is alive and well and just may be right round the next corner. Having already socialised with the shoppers of Oxford whilst hanging out on the High Street and Oxford United supporters when he took to the pitch before last Saturday's game, Truck Monster is now looking forward to meeting many new friends over the next few months as he travels the country. Rumours of Truck Monster gate-crashing the Royal Wedding reception and being lined up for an Eastenders cameo are currently uncorroborated. Anybody snapped snuggling up to Truck Monster is in with the chance of winning a shopping spree at the Truck Store (see facebook.com/TruckFestival). Who said the future of marketing was digital only?!
Weekend tickets for Truck are still less than £100 taking the prize for the best value mini-holiday music lovers could wish for in 2011. But for those who fancy some Wood and Truck action this summer, there's an even better saving if they snap up a Super-Trucker ticket at just £170 for adults and £120 for a young person (13-17 years).
FULL TICKET DETAILS
£99   Truck Festival adult weekend ticket
£79   Truck Festival young person (13-17) weekend ticket
£40   Truck Festival adult Friday & Sunday day tickets
£33   Truck Festival young person (13-17) Friday & Sunday day tickets
£45   Truck Festival adult Saturday day ticket
£38   Truck Festival young person (13-17) Saturday day ticket
£170 Super-Trucker adult ticket
£120 Super-Trucker young person (13-17) ticket
All ticket prices subject to booking fee
Please note under-12's go free and under-18's must be accompanied by an adult
Super-Trucker ticket consists of Wood Festival and Truck Festival weekend tickets
AVAILABLE FROM
Online via www.thisistruck.com and www.seetickets.com
By phone on 0844 854 1350
In person at Truck Store, 101 Cowley Road, Oxford (01865 793 866) and other shop outlets.
Keep on Trucking www.truckfestival.com