MONO STEREO 'GIRL, I LOVE YOU' OUT DIGITALLY ON 20th JUNE ON MINTY HIGHWAY
aaamusic | On 09, May 2011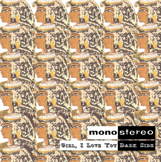 Following on from the success of last year's releases in the form of 'On and On/A Matter of Confusion' and 'Me and My Machine', Sweden's Mono Stereo are due to return in June with new single 'Girl, I Love You'.
The single has been produced by Kramer (Galaxie 500, Low), with b-side 'Darkside' produced by Kramer and remixed by the band themselves.
The end of 2010 saw Mono Stereo completing their debut UK tour alongside the release of the acclaimed 'Me and My Machine', a single that further cemented the band as one of the finest exponents of psychedelic rock from the Scandinavian musical haven of Sweden. 'Girl, I Love You' finds the band continuing in that same formidable vein and is the most recent release to be taken from their forthcoming debut album, 'Who Built The Pyramids?'.
'Girl, I Love You' is a perfect, tie-dye infused summer anthem, bouncing along on a garage swing of distortion soaked guitar melodies before driving through the sixties hue that Mono Stereo have become renowned modern purveyors of, with the effortlessly infectious chorus proving impossible to not remain embedded permanently in the daisy-chain utopia of the season. 'Darkside' then finds the band building up from a near-sinister abyss of disorientating and frightening guitar sounds before snapping into a driving, rhythm-led and cathartic course of sense-soaking noise.
With the band already receiving great support in the UK from the likes of BBC 6Music, God Is In The TV and The Vinyl District, as well as receiving great support from the US with previous single being released on vinyl-only label MPLS LTD and the band reaching the likes of Culture Bully and Consequence of Sound, 'Girl, I Love You' is sure to grace an even wider consciousness any time soon.