THANK YOU: new video – headline tour in May – tour with Battles in June
aaamusic | On 11, May 2011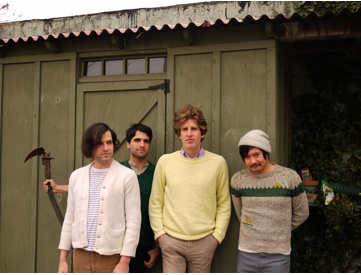 After their headline shows this month (including London date at Camp Basement on 24 May), Baltimore-based no-wave, post-punk band THANK YOU will be back in Europe touring with BATTLES, see dates below. They also unveil a brand new video for the track "Pathetic Magic" from their new album Golden Worry.
Thank You – Pathetic Magic from Thrill Jockey Records on Vimeo.
Now a four-piece, Thank You's latest album Golden Worry (produced by Chris Coady – Beach House, Gang Gang Dance) was released earlier this year to much critical acclaim. They have since added a new bass player STEVE SANTILLAN who brings an extra punch to their dynamic sound. Fans of innovative post-punk, poly-rhythmic drumming, and more cerebral no wave, will find much to enjoy about Thank You.
The video for "Pathetic Magic" was directed by Baltimore animator Karen Yasinsky.
FULL TOUR DATES:
11/05/11    Paris (FR), Point Ephemere w/ 31 Knots, Secret Cities
12/05/11    Lausanne (CH), Le Bourg
13/05/11    Esslingen (DE), Villa Merkel
14/05/11    Leipzig (DE), La Familia Y Amigos Festival
15/05/11    Berlin (DE), Westgermany w/ Skeletons
17/05/11    Leuven (BE), Stuk w/ 31 Knots
18/05/11    Brussels (BE), Magasin 4
19/05/11    Cardiff (UK), Undertone
20/05/11    Manchester (UK), Islington Mill
21/05/11    Glasgow (UK), Stag & Dagger
22/05/11    York (UK), Stereo
23/05/11    Brighton (UK), The Prince Albert
24/05/11    London (UK), CAMP Basement
25/05/11    Amsterdam (NL), OT301
26/05/11    Den Haag (NL), 330 Live w/ Shigeto
27/05/11    Brugge (BE), Snuffel
31/05/11    Marseille (FR), Espace Julien w/ Battles
03/06/11    Brighton (UK), Concorde 2 w / Battles
04/06/11    Preston (UK), Mad Ferret (THANK YOU only!)
05/06/11    Nottingham (UK), The Chameleon (THANK YOU only!)
06/06/11    Leeds (UK), Cockpit w/ Battles
07/06/11    Glasgow (UK), The Arches w/ Battles
8/06/11      London (UK), Heaven w/ Battles
09/06/11    Amsterdam (NL), Melkweg w/ Battles
10/06/11    Dortmund (DE), FZW w/ Battles
11/06/11    Muenchen (DE), Feierwerk w/ Battles
12/06/11    Hamburg (DE), Uebel & Gefaehrlich w/ Battles
9-11/12/11 Minehead (UK), ATP Nightmare Before Christmas
"…shines a light on pop-hooks with a teeth grindingly high riff that sticks in your head as it skips over the head-nodding drums and smooth, hum-worthy harmonies… exciting and full-of-energy." – Loud + Quiet
"Obtuse and unrelenting, their discordant racket serves as a soundtrack to their native city's bleak industrial climate, in the same way Big Black characterised mid-Eighties Illinois or Pere Ubu a decade earlier with Cleveland… There's a diversity to Golden Worry's six pieces. '1-2-3 Bad' takes a similar post-punk route to that of No Age, offering minimal noise where others would probably take a more dance-orientated route… it's hard to envisage a more challenging, complex record than this"– Drowned in Sound
LINKS:
http://thrilljockey.com/press/index.html?id=11346
ARTISTS: http://www.thrilljockey.com/artists/index.html?id=11346
MYSPACE: http://www.myspace.com/wethankyou