Crystal Stilts head back to the UK in June with a New Single
aaamusic | On 12, May 2011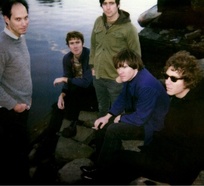 Crystal Stilts
"Shake The Shackles"
Fortuna POP! – Download Single – 20 June
UK Dates
Mon 20 Jun 2011 London XOYO
Tue 21 Jun 2011 Southampton Joiners Arms
Wed 22 Jun 2011 Portsmouth Wedgewood Rooms (w/Warpaint)
Thu 23 Jun 2011 Cardiff Millennium Music Hall (w/Warpaint)
Fri 24 Jun 2011 Manchester Sound Control
Following the release of their latest album In Love With Oblivion, Crystal Stilts are releasing "Shake the Shackles" as a digital download single to coincide with their second UK jaunt of 2011 this coming June with headline shows including XOYO in London on 20th (with The 1990's and Still Corners) plus a couple of shows with Warpaint.
Crystal Stilts burst out of Brooklyn's storied post-punk indie scene in 2008 with a string of releases including their fantastic debut album Alight Of Night and this year's critically acclaimed In Love with Oblivion. Deftly combining the spooked 60s Texas psych of 13th Floor Elevators and Red Crayola, the gothic blues/punk howl of Gun Club, the dark, experimental DIYism of early Flying Nun/Xpressway groups and a dash of classic 60s pop, Crystal Stilts won universal accolades and established the band as first-class purveyors of haunting, atmospheric post-punk pop.
"Shake The Shackles" is one of the stand-out tracks from In Love With Oblivion, as described by the NME; "the fuzzy layers of infectious riffs, organs and tambourine shakes gloom clear with a hopeful, dappled-sunlight brilliance." Driven by echoed guitar strum and droning keys, it's a dexterous update of 60s garage pop that places it alongside late 80s Paisley Underground heroes like Green On Red and later Dream Syndicate, but the song itself is totally timeless, and impossible to place anywhere but firmly in Crystal Stilts' own unique style.
"Where 2008 debut 'Alight of Night' swooned in on a wave of surf-tinged guitars and simple rhythmic swagger, 'In Love With Oblivion' capitalises on the band's melodic talents and embraces them tenfold. It's not so much a departure as just, well, better. For every one of Brad Hargett's nonchalantly droning vocals, there's a melody that shimmers and sparkles with all the pop nous of any 60s great." NME 8/10
"Tough, primitive and direct… when scholarship and tribute are transformed into something urgent and vital" The Wire
"Thrillingly transcendent… even the song titles sound like great bands from the future" Q (4/5)
"Swirling through a reverb fug comes this satisfying record of lean garage rock… a nice updating of Count Five-style psych menace" Uncut
"Brooding garage with a classic retro sound… there's something strangely familiar, thrilling and addictive about this LP" Loud & Quiet (8/10)
"It opens with an ominous crescendo of atonal, swirling organ and eerie guitars. Suddenly it bursts into a drone-tastic groove that recalls Clinic's fusion of The Velvet Underground and Neu!-style kosmische… Terrific Stuff." The Fly