Atlanta riot grrrls The Coathangers unveil new video! New album out June 20th on Suicide Squeeze!
aaamusic | On 13, May 2011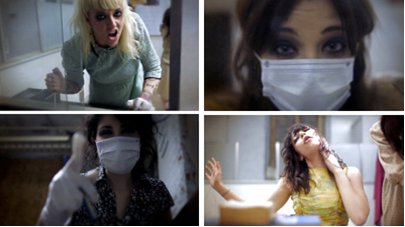 Atlanta riot grrrls The Coathangers have premiered their awesome new video for "Hurricane," the lead single from their forthcoming new album Larceny & Old Lace, out June 20th on Suicide Squeeze.
Directed by Studio8's Mike Moore the menacing and frenzied clip made it's debut on Pitchfork over the weekend and stars the band adorned in surgical & animal masks, in an old warehouse on a goat farm where the insanity ensues – it even features a cameo by a goat.
See it here:
"Honestly the girls wanted to do something as raw as possible so we just found these very dark scenes that we felt represented the feel of the song and we just went as far as we could go with it" explains Moore. "I definitely wanted them to be seen in a light that the world has never seen before and feel we accomplished that."
 
Larceny & Old Lace sees The Coathangers stepping up their game for a volatile 11 track cherry-cola flavoured sucker punch. Swinging frantically from ferocious to saccharine sweet, all the while showing an uncanny flair for writing thoroughly addictive hooks, The Coathangers do girl punk with more panache, style and humour than any of their peers.
 
This recordis the follow up to the quartet's critically acclaimed 2009 album, Scramble, also released on Suicide Squeeze. It also follows a hectic touring schedule that's now notched up over 200 shows, playing with the likes of The Thermals, Japandroids, These Arms Are Snakes, The Strange Boys, Fucked Up, Monotonix and Jay Reatard – whose memory album track Jaybird is dedicated to.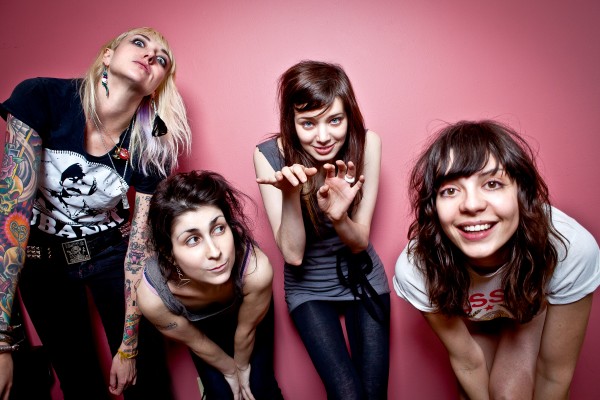 Larceny & Old Lace tracklist:
 
1) Hurricane
2) Trailer Park Boneyard
3) Go Away
4) Sicker
5) Call To Nothing
6) Jaybird
7) Johnny
8 ) My Baby
9) Chicken: 30
10) Well Alright
11) Tabbacco Rd.
 
Who's your favourite Coathanger? They are Julia "Crook Kid Coathanger" Kugel (guitar/vocals), Stephanie "Rusty Coathanger" Luke (drums/vocals), Candice "Bebe Coathanger" Jones (keyboard/vocals) and Meredith "Minnie Coathanger" Franco (bass/vocals).
They'll return to the UK later this year, but in the meantime shout back for promotional copies of what I can only describe as one of the most exciting punk records of the year!