Comedy 11th May Special 2-for-1 Entry – Tom Allen (TNT Show, C4), Dana Alexander + more
aaamusic | On 14, May 2011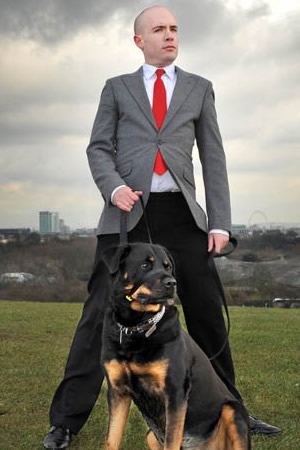 "Fantastic comedy night, Highly Recommended" – londonisfunny.com
"★★★★★ Recommended" – Time Out
"great value comedy night that brings in not only such consistent levels of talent but the audiences to match… the Kensal area is better off for it" – thesourcemag.net
"Exciting and progressive comedy talent featured" – The Guardian
2-FOR-1 CHEAP LIST
THAT MEANS £2.50 entry EACH
entry for anyone who replies with FULL NAMES.
just send full names to: jeff@jeffreyleach.com
DATE: WEDS 11TH MAY
SHOW STARTS 8:00PM
Springtimeeeee for Hitler….
Well springtime wasn't JUST for devil spawn dictators NO! It's for YOU too, and to celebrate that bloomin' fact I've only gone and booked a sterling line up of stand ups AND am offering you a one off 2-FOR-1 entry to see them.
And with 2-FOR-1 SPECIAL ENTRY, 2-FOR-1 SPRING COCKTAILS, full AIR-CONDITIONING
and amazing FOOD SERVED ALL NIGHT you know you want it!
TOM ALLEN
(TNT Show – Channel 4 / Rules of The Playground – BBC)
Star of TNT Show on Channel 4, Various tv gold on E4 and BBC and all round super star. He won So You Think You're Funny Competition AND BBC New Comedian Competition Awards, he got himself 5 Star reviews up at Edinburgh Fringe festival and has gone on to storm stages around the world as a result from Canada to Australia. Just back from the Melbourne Comedy Festival he's returning to Paradise once more to delight us with his laconic eloquent charm and story-telling dreaminess. I'd bang him senseless if I was… which I'm not… or am I?
Check him out in action: http://youtu.be/QTrw1czF5z k
DANA ALEXANDER
A seasoned professional having worked the circuit for 11 years, Dana is one of Canada's finest comic exports. Brash, sassy as hell and quick witted beyond compare she has literally reached the peak of her game in the land of logs and maple syrup starring in her own Comedy Now special on Canada's biggest channel and has therefore decided to come to the UK to remind us why we are losing at comedy.
Check her out on TV making peoples' sides split: http://youtu.be/08sDpcTq99 c
PAUL SWEENEY
"Paul Sweeney swishes about the stage like a surreal tea caddy, liberally tickling our funny bones with his marvellous, unusual, quercine humours" – Paul Foot
"Brilliant, bubbly personality, bursting with talent. Showing a more varied style of humour. The mix of music and comedy one of the highlights of the free fringe." – Funny, Free, Fringe
Check out his musical beauty: http://youtu.be/2pBW_I87pf E
JEFF LEACH
Jeff Leach bares his soul and reveals all pontificating on the highs and lows of his private life. Having only started stand up one year ago Leach has wow'ed audiences at the Comedy Store in London and performing sold out shows at Edinburgh 2010, Oxjam Kilburn Comedy Festival, Leicester Comedy Festival and Manchester Comedy Festival.
"He's hilarious and he's a hottie" Heat
"comedic tour-de-force" ***** Three Weeks
"exciting, raw, watch this face!" Front
"last summer's favourite festival stand-up" Esquire
Check out some of his comedy madness: http://youtu.be/OlDrNGpko- k
DON BISWAS
Don Biswas is the only and best short, asian, filthy, comic sufferer of mild autism on the circuit. He also happens to be pretty fucking hilarious. Winning London New Comedian Award 2010 and now in the final for Laughing Horse New Act Competition 2011 he is doing big things in the world of comedy.
Watch him winning the Comedy Store King Gong show: http://youtu.be/WIBjOKs8js U
All lovingly held together by your special guest MC…
DAVE GIBSON
In stand-up, during the last year, Dave has been in the Hackney Empire New Act Of The Year Final, as well as winning the Comedy Cafe New Act Night, the Oxford Fringe New Act of the Year Award, Funhouse Comedy's 'Should I Stay or Should I Go' gong show as well as the Stand Up And Coming Gong Show, and his 'Art of Comedy' workshop was voted the best show at the Hull Comedy Festival. He has also been a finalist at the Big Big New Act of the Year comp, an Edinburgh semi-finalist at So You Think You're Funny and a Quarter-finalist at The New Act of the Year comp.
♦♦♦♦♦♦♦♦♦♦♦♦♦♦♦♦♦♦♦♦♦♦♦♦♦♦♦♦♦♦♦♦♦♦♦
EMAIL FULL NAMES TODAY FOR
£5 (2-FOR-1) GUEST LIST ENTRY
♦♦♦♦♦♦♦♦♦♦♦♦♦♦♦♦♦♦♦♦♦♦♦♦♦♦♦♦♦♦♦♦♦♦♦