Circus Bank Holiday Special Sun 29th May @ the Masque, Liverpool
aaamusic | On 16, May 2011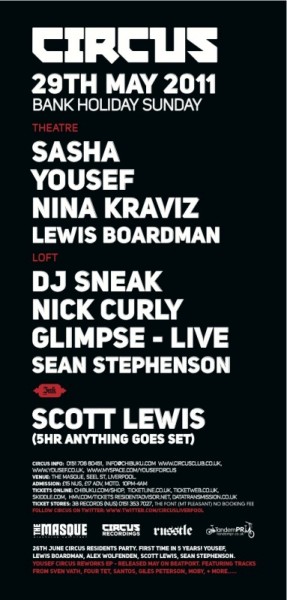 The party pressure from Circus builds once again with the warm glow that comes from May bank holiday three-day freedom.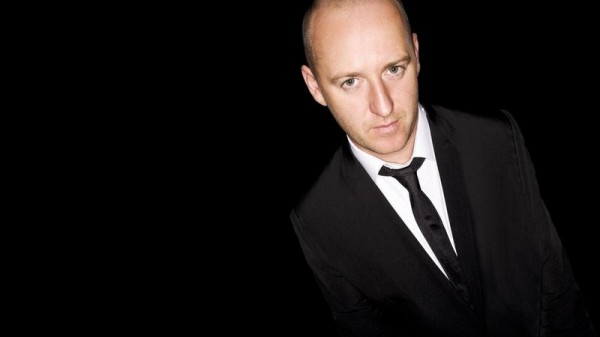 Sasha remains one of the biggest draws in modern dance music. His story of meteoric rise as the original superstar DJ is well told but not indicative of a man content with merely being part of the scene's history, more the prelude to his surge into the genre's future. Always one to break new ground, the tail end of 2010 saw him unleash the V_rtek concept upon dance music, a groundbreaking collision of visuals designed by Picnic Electronic and Immersive to align with every sonic facet of Sasha's musical output. Recently his late nineties masterpiece 'Xpander' was voted the second favourite record of the twenty year BBC Radio One tenure on Pete Tong's Essential Selection, indicative of just how influential and symbolic that record is. Each Circus performance from Sasha etches his name further into the folklore of Liverpool's clubbing folklore, and this will be the first time he has played in the Theatre backed by the stunning power of the Funktion One sound system.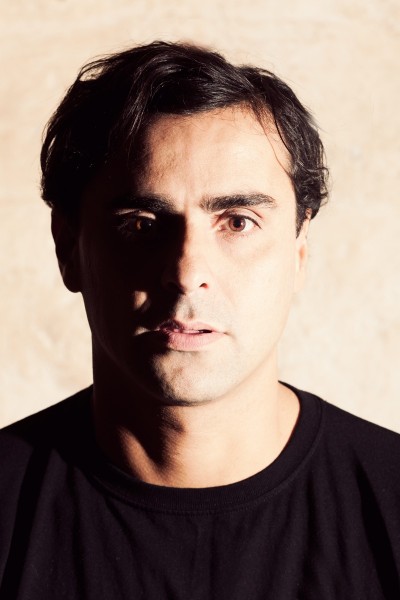 Joining him is Yousef. Currently on the brink of unleashing his second artist album onto the dance music consensus, he's broken free of previous genre shackles to create his most experimental selection yet. His Circus Reworks project is about to drop too, featuring remixes from everyone from Sven Vath to Fourtet. This diversity out has spilled into his DJ sets too; the last Circus saw him teasing in John Lennon's 'Instant Karma' mid set to a rapturous response and a beckoning summer of festivals, Ibiza, global tours and sweat soaked dancefloors further cements his ever-growing status.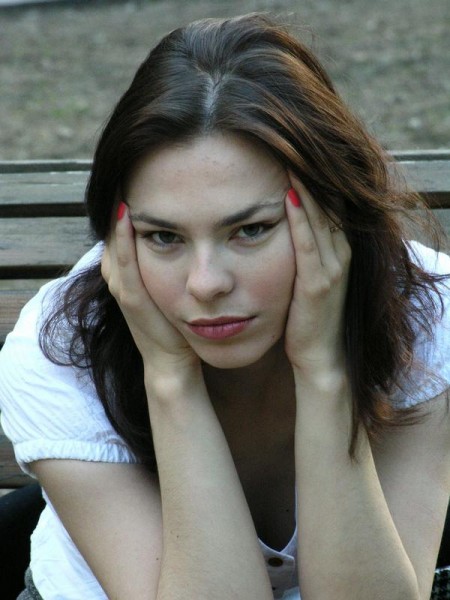 And then there's Nina Kraviz, the hotly tipped siren who has had tastemakers getting their knickers in a twist for the past few years. Her label roll call is as seductively pitched as her sound; Radio Slave's Rekids, Trenton, Naif and then Jus-Ed's imprint neatly summing up her vibe: Underground Quality. Deep, groovy, twisted and dripping with funk, the Russian beat herder is just as adept behind the decks, bringing the pressure and swagger effortlessly. Oh and she sings, winning a slot on the red Bull music academy in 2006 and gifting her music an otherworldly aesthetic. Expect impromptu serenading to accompany her shuffling grooves. Lewis Boardman, circus' ever-improving resident and burgeoning producer, backs the cartel up.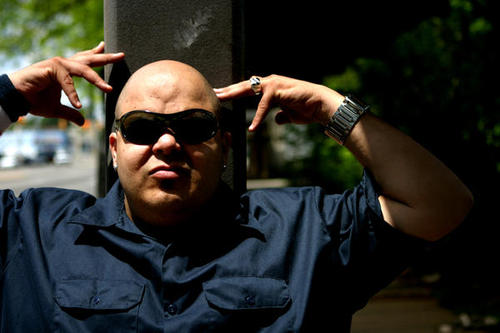 Circus stalwart DJ Sneak is next up headlining in The Loft. One of the original star guests at Circus' inception back in 2002, Sneak has managed to stay relevant whilst those around him have succumbed to the wayside. Sticking true to the funk, he dipped in and out of the boompty craze he helped pioneer and was readily recognised as one of the most resilient manufacturers of solid house grooves the genre had ever seen. Feted by everyone from Vilalobos to Tong, Derrick May to Seth Troxler, Sneak's relevance in today's scene is a strong as ever, including gigs at Cocoon and DC-10 as well as releases on Cecille and Desolat.
Nick Curly is once more welcomes back to the club. The German continues to cement his reputation as one of Europe's most innovative producers. As a creator of taste, Nick has taken his Cecille and Cecille Numbers labels into the stratosphere since their inception, delivering one dance floor smash after another and, in the process, helped launch the careers of acts such as Markus Fix, SIS, Robert Dietz and Alex Celler. Circus welcomes Glimpse – live for his debut. The Glimpse live show combines Ableton and Roland 909 drum machine, which allows him to improvise on the fly and take the set in different directions. Deep heavy house and techno grooves straddle genres to make up the Glimpse sound and show why heavyweight labels like Planet E, Cadenza, Cocoon and Crosstown Rebels have all released his music. Circus resident Sean Stephenson is back behind the decks, chalking up another set at the hallowed venue as his reputation continues to grow.
In Ink, Circus resident Scott Lewis is let loose on the decks for a full five hours. Expect a genre-spanning set from this mercurial local talent.
The Full Line-Up
Circus – Bank Holiday Sunday Party
Sunday 29th May
@ The Masque, 90 Seel Street, Liverpool, L1 4BH
The Theatre
Sasha
Yousef
Nina Kraviz
Lewis Boardman
The Loft
DJ Sneak
Nick Curly
Glimpse – Live
Sean Stephenson
Ink
Scott Lewis – 5 hour Anything Goes set
10pm – 4am
Price £15 / £17
Info – 0151 706 8045
Tickets:
www.chibuku.com/shop
www.skiddle.com
www.datatransmission.co.uk/circus
TicketWeb: 08444 771 000
Ticketline: 0161 832 1111
3B records: 0151 353 7027