EMA New Video & Free Download + Great Escape Show Details
aaamusic | On 16, May 2011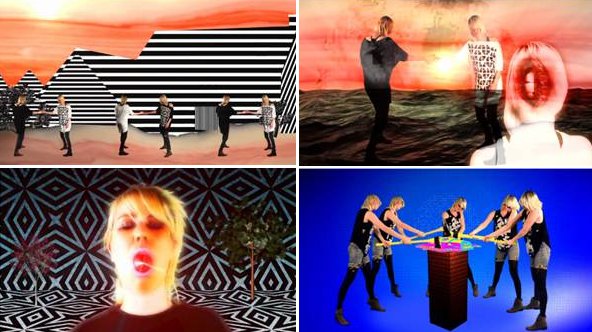 EMA
NEW VIDEO & FREE DOWNLOAD
ALBUM OUT NOW!
LABEL: SOUTERRAIN TRANSMISSIONS
cameouttanowhere.com ● souterraintransmissions.com
After a packed out and incredibly well received debut UK show at London's Macbeth last night EMA, the new project from ex-GOWNS singer/guitarist Erika M. Anderson, has uploaded the surreal video for her digital free release single 'Milkman'.
Taken from her album, 'Past Life Martyred Saints', released this week on Souterrain Transmissions, the video for Milkman was directed by William Rahilly and perfectly reflects the creative, unusual and inspiring approach to song-writing that has seen this debut album critically lauded on both sides of the Atlantic.
The track can also be downloaded for free here:
EMA – Milkman by souterraintransmissions
As well as her album, EMA also releases a special 7" of her incredible cover of Danzig's Soul on Fire through Italian record label Hell, Yes! this coming Monday May 16th
EMA continues her string of UK shows with Scout Niblett this week, before heading to The Great Escape this weekend where she will be available for interviews. If you are heading down you can catch her playing 2 shows on Saturday. The full details for her remaining UK shows are are:
12 May London Cargo (w/Scout Niblett)
13 May Manchester Islington Mill (w/Scout Niblett)
14 May Brighton The Great Escape Shipwright's Yard @ 4pm
14 May Brighton The Great Escape NME Radar Stage, Horatios @ 8:30pm
All dates will be with her full band: sister Nikki Anderson (drums, vocals), Aaron Davis (bass), and Leif Shackleford (violin, synths).
Praise for Past Life Martyred Saints:
"Phenomenal debut album" 5/5 Sunday Times 'CD of the Week'
"Blending roughness with beauty could be said to be EMA's thing"' Debut of the Month' 4/5 Uncut
"Deliriously woozy thrill-ride" 4/5 MOJO
"She's already sailed miles past the 'bright hope' stage and is well on her way to lo-fi legend" Time Out
"Dark, devilish and utterly intriguing, this is an album to lose yourself in" 4/5 The Fly
"EMA: she's curse-inducingly good." Guardian New Band of the Day
"I guess some folk do what others of us don't even dream exist" Everett True, Collapse Board
"Masterful handling of each of the nine tracks makes this a truly one-off debut" 4/5 The Sun
"This would already be sitting on top of the tottering pile of data that is our albums of the year long list…if we made such things." 20jazzfunkgreats
"EMA's raw power serves heartening evidence of a tough, fearless talent" The Independent
"9/10" Loud & Quiet
"4/5" Stool Pigeon
"4/5" Financial Times
"She's a wonder to behold" Pitchfork
"Packed with epiphanies it may be, but this album invites one more: that of the listener discovering it." The Quietus
"A whole heap of Americana awesome" NME
"You'll have no idea where you are when the 'Grey Ship' halts but you'll know it has been wonderful" Metro
"A rare 'DiScover' recommendation…You're sucked into an ornate vortex of a true artist, who is not just making songs but building a planet for us to inhabit." Drowned in Sound
"Wonderfully intoxicating" 4.5/5 Music OMH