Katie Armiger nets Taylor Swift's producer for new album
aaamusic | On 17, May 2011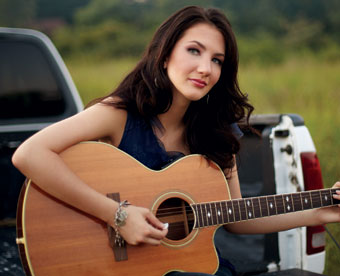 Katie Armiger
"Confessions of a Nice Girl"– 6th June
At only 19 years of age Katie Armiger has accomplished more in five years than many musicians decades her senior. After winning a singing contest in her native Houston at the age of 14 Armiger not only recorded, released and toured her first album by the time she was 15 but had enough in the tank for two follow ups in four years both of which have notched up hugely impressive chart positions across America and seen her following grow and grow.
It's in her homeland that Armiger has tasted the first bewitching drops of success. On its American release "Confessions Of A Nice Girl" debuted at #11 in the iTunes Album Chart, CosmoGirl featured Katie as their "Next Big Thing" and the media buzz earned her a guest spot on CBS' Morning Show.
"Confessions Of A Nice Girl" sees Armiger on top form opening with the irrepressibly positive "Best Song Ever" a song easily capable of standing toe-to-toe with genre big-hitters Kelly Clarkson and Avril Lavigne's finest efforts. Then Armiger steps things up with the coming-of-age, made-for-radio stomper that is "Kiss Me Now". A song that not only features huge riffs, an irresistible chorus (featuring a brazen Armiger really getting down to business) but also highlights just how much Armiger has grown up since she broke onto the scene five years ago: "Put on my high heels / My little red dress…and I don't care if / You know I'm trying… Let me show you tonight that it's time we stop messing around / Kiss me now".
In producer Chad Carlson (Taylor Swift) Armiger's found the perfect foil for her country-inspired pop rock and it's his production that catapults this record into position as her best yet. Carlson moves from lush instrumentation through classic arrangements recalling classic Shania Twain and even finds space to combine the traditional and the contemporary (see the dueling mandolin/synthesizer in "Best Song Ever") to make something truly original.
On "Ain't Gonna Happen" Armiger takes the opportunity to show something of her fiercely independent soul with a wry assertion of being "so over" a previous partner. Here is a young woman unafraid to say what she feels, means and wants. With "Best Song Ever" Katie displays a lyrical talent that belies her youth. Offering up an intelligent and ever-so-slightly ironic commentary on the almost magical nature of hit pop songs in the very format she's working in. Armiger transcends the throwaway, gears into folk, pop and country and hints at the classic.
Despite her relatively few years Armiger's voice is fully-formed, mature and bursting with energy. She confidently offers up this, her third record, almost as a challenge: try not to like it.  When music sounds this good, let's hope Katie's got plenty more to confess when she hits her twenties.