les BOF! brand new French sung Scottish garage-punk
aaamusic | On 18, May 2011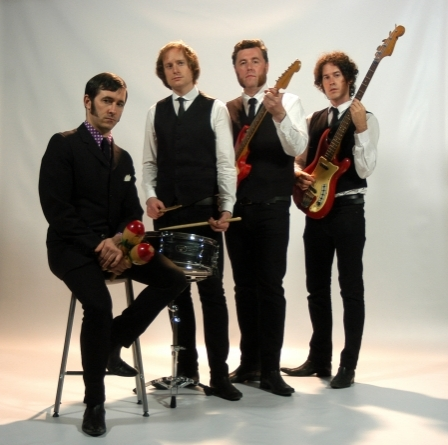 Here it is, finally. The European Garage Festival regulars Les BOF!'s long awaited, often asked for, debut album. Literally translated as "Don't Care" or "Not Interested" Les BOF! are the UK's only French language sung garage-punk band. Led by the modish, suave French singer Laurent Mombel (Marseilles' original "Rock 'n' Roll Vandal") and featuring Angus McPake's coups de couteauguitar (The Thanes) and Colin and Ross's (Preston Pfanz & The Seaton Sands) gronder bass lines and propulsif backbeat, theirs is a high octane explosion of mid-60s guitar blasts, tinny organ, foot to the floor drumming and snotty vocals. Inspired by how Les Miserables and Dutronc behaved after hearing 'You Really Got Me', it's a hybrid of punkish attitude and pop song writing, equal parts energy and big, memorable choruses. The Edinburgh based quartet stomp through an almost entirely self-penned set of rave-ups on the dynamically charged Nous Sommes .. . Les BOF! – featuring the same set, which they have performed at shows with Billy Childish, The Masonics and The Downliners Sect. A non-stop beat fest, in fact, that has sent audiences ape-shit wild from Oslo to Parma and London to Berlin!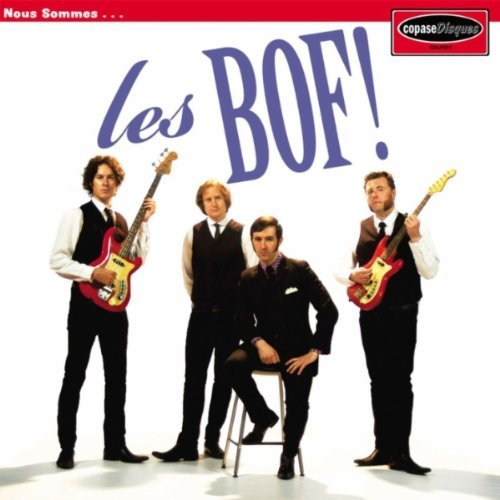 Unhappy with the current recording studio situation in the UK Les BOF! set about building their own to make the album in, which might explain why it has taken so long to finish. The end results have certainly been well worth the wait! Nous Sommes … Les BOF!features 14 formidable killer tracks of storming ye-ye and out-and-out primitive rock 'n' roll. '
Fancy some cool French '60s beat? Aah! Mes amis, then don't look any further as here 'tis!!! There's enough power and melody here to win over new crowds and a certain authenticity that will please the hardcore. From the rousing album opener 'Rue Marcel Tambat's' Gaelic twist on '2010 South Michigan Avenue' with McPake's wild guitar, harp wailing and some wild organ to the fuzz driven pop beat of 'Pochtron Club' and the mysterious filmic R&B vibe of 'Femme Impossible' it's a thrilling, no holds barred ride.