The Kinks reissue more classic albums in brand new deluxe format
aaamusic | On 18, May 2011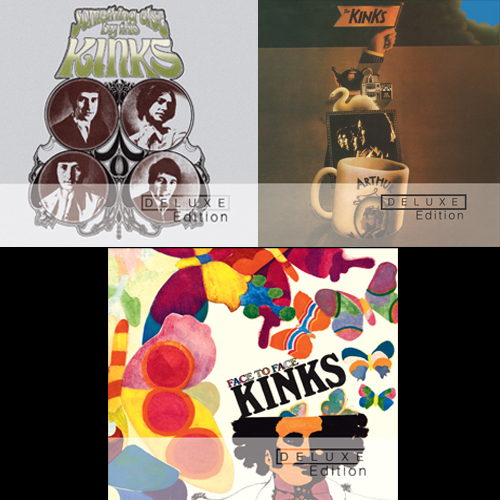 Legendary British guitar group the Kinks are to re-release three classic albums in a brand new double CD deluxe format on June 13th, following the re-issue of their first three albums in March.
Featuring rarities, outtakes, demos, session tracks and in depth liner notes 'Arthur (Or the Decline and Fall of the British Empire)' (1969), 'Face to Face' (1966) and 'Something' Else' (1967) will be released on June 13th, while Ray Davies' Meltdown is in full swing on London's South Bank.
This 2-CD expanded edition comes with deluxe packaging containing Mono and Stereo mixes as well as BBC sessions and short interviews, all re-mastered from original tapes by well-known Kinks archivist Andrew Sandoval. The CD booklets were designed by award winning art director Phil Smee and comes packed with rare and unreleased images.
These releases follow March's re-issue of 'Kinks' (1964), 'Kinda Kinks' (1965) and 'The Kink Kontroversey' (1965).
Forming over 45 years ago in North London, the Kinks have long been regarded as one of the truly great British bands. Members of the Rock & Roll Hall of Fame, at the core of the band were brothers Ray and Dave Davies. The band released 25 acclaimed studio albums during their prolific career, which finally came to an end in 1996.
The re-issue tracklistings are:
Arthur
Disc 1
1. Victoria
2. Yes Sir, No Sir
3. Some Mother's Son
4. Drivin'
5. Brainwashed
6. Australia
7. Shangri-La
8. Mr Churchill Says
9. She's Bought A Hat Like Princess Marina
10. Young And Innocent Days
11. Nothing To Say
12. Arthur
13. Plastic Man
14. This Man He Weeps Tonight
15. Mindless Child Of Motherhood
16. Creeping Jean
17. Lincoln County
18. Hod My Hand
19. Victoria (BBC Version)
20. Mr Churchill Says (BBC Version)
21. Arthur (BBC Version)
Disc 2
1. Victoria
2. Yes Sir, No Sir
3. Some Mother's Son
4. Drivin'
5. Brainwashed
6. Australia
7. Shangri-La
8. Mr Churchill Says
9. She's Bought A Hat Like Princess Marina
10. Young And Innocent Days
11. Nothing To Say
12. Arthur
13. Plastic Man (Stereo mix)
14. This Man He Weeps Tonight (Stereo mix)
15. Drivin' (Alternate Mix)
16. Mindless Child Of Motherhood (Stereo mix )
17. Hold My Hand (Stereo)
18. Lincoln County (Stereo)
19. Mr Shoemaker's Daughter
20. Mr Reporter (Stereo)
21. Shangri La (Backing Track)
Face To Face
Disc 1
1. Party Line
2. Rosie Won't You Please Come Home
3. Dandy
4. Too Much On My Mind
5. Session Man
6. Rainy Day In June
7. A House In The Country
8. Holiday In Waikiki
9. Most Exclusive Residence For Sale
10. Fancy
11. Little Miss Queen Of Darkness
12. You're Looking Fine
13. Sunny Afternoon
14. I'll Remember
15. Dead End Street
16. Big Black Smoke
17. This Is Where I Belong
18. She's Got Everything
19. Little Miss Queen Of Darkness (Alternate Take)
20. Dead End Street (Alternate Version)
Disc 2
1. Party Line
2. Rosie Won't You Please Come Home
3. Dandy
4. Too Much On My Mind
5. Session Man
6. Rainy Day In June
7. A House In The Country
8. Holiday In Waikiki
9. Most Exclusive Residence For Sale
10. Fancy
11. Little Miss Queen Of Darkness
12. You're Looking Fine
13. Sunny Afternoon
14. I'll Remember
15. This Is Where I Belong
16. Big Black Smoke
17. She's Got Everything
18. You're Looking Fine (Alternate Stereo Mix)
19. Sunny Afternoon (Alternate Stereo Mix)
20. Fancy (Alternate Stereo Mix)
21. Little Miss Queen Of Darkness (Alternate Stereo Mix )
22. Dandy (Alternate Stereo Mix)
Something Else
Disc 1
1. David Watts (Stereo Album Version)
2. Death Of A Clown (Stereo Album Version)
3. Two Sisters (Stereo Album Version)
4. No Return
5. Harry Rag
6. Tin Soldier Man
7. Situation Vacant
8. Love Me Till The Sun Shines
9. Lazy Old Sun
10. Afternoon Tea
11. Funny Face
12. End Of The Season (Stereo Album Version)
13. Waterloo Sunset
14. Susannah's Still Alive (Stereo)
15. Autumn Almanac (Stereo)
16. Sand On My Shoes (Stereo)
17. Afternoon Tea (Alternate Version)
18. Mr Pleasant (Alternate Version)
19. Lazy Old Sun (Alternate Vocal Version)
20. Funny Face (Alternate Stereo Version)
21. Afternoon Tea (German Stereo Mix)
22. Tin Soldier Man (Alternate Backing Track)
Disc 2
1. David Watts
2. Death Of A Clown
3. Two Sisters
4. No Return (Mono Album Version)
5. Harry Rag (Mono Album Version)
6. Tin Soldier Man (Mono Album Version)
7. Situation Vacant (Mono Album Version)
8. Love Me Till The Sun Shines (Mono Album Version)
9. Lazy Old Sun (Mono Album Version)
10. Afternoon Tea (Mono Album Version)
11. Funny Face (Mono Album Version)
12. End Of The Season
13. Waterloo Sunset (Mono Album Version)
14. Act Nice And Gentle
15. Mr. Pleasant
16. Susannah's Still Alive
17. Autumn Almanac
18. Harry Rag (Alternate Take)
19. David Watts (Alternate Take)
20. Afternoon Tea (Canadian Mono Mix)
21. Sunny Afternoon (BBC Version )
22. Autumn Almanac (BBC Version)
23. Mr Pleasant (BBC Version)
24. Susannah's Still Alive (BBC Version)
25. David Watts (BBC Version)
26. Love Me Till The Sunshines (BBC Version)
27. Death Of A Clown (BBC Version)
28. Good Luck Charm (BBC Version)
29. Harry Rag (BBC Version)
30. Little Woman (Backing Track)