THE BEST OF BBC RADIO 1's LIVE LOUNGE RELEASED 6 JUNE 2011‏
aaamusic | On 19, May 2011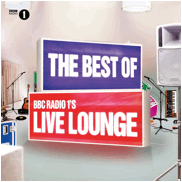 An unreleased Leona Lewis track plus a variety of covers and classic songs from best selling and chart topping artists such as Adele, Foo Fighters, Plan B,Jason Derulo, Black Eyed Peas, Florence & The Machine, N-Dubz and Kylie Minogue will all feature on the forthcoming Sony Music compilation The Best Of BBC Radio 1's Live Lounge, the latest instalment in the multi-million selling Live Lounge series, which is released on 6 June 2011.
Featuring 40 tracks all taken from the memorable Radio 1 Live Lounge sessions, which originally started 10 years ago under Jo Whiley and which are now hosted byFearne Cotton, The Best Of BBC Radio 1's Live Lounge is a stunning compilation of classic tracks and unique cover versions, all stripped down and recorded live in studio to show off the true quality of musicianship and craft of each song.
Exclusive to this release is a previously unreleased Live Lounge track by pop phenomenon Leona Lewis, a cover version of Snow Patrol's Top 5 selling single 'Run, which became the most requested Live Lounge session ever. Leona recorded her own studio version, which in turn went to No. 1 in the UK singles charts in 2008.
Cover versions featured on this 2-CD album include Plan B's take on Tinie Tempah's 'Pass Out', Jason Derulo's cover of Plan B's 'She Said', Kylie Minogue's version of Hurts 'Wonderful Life', Florence & The Machine's interpretation of Beyonce's 'Halo', Pendulum doing Coldplay's 'Violet Hill' and N-Dubz alternative version of 'The Man Who Can't Be Moved/Breakeven' from The Script – as well as some surprising covers from Arctic Monkeys, Keane, The Script and Jamelia!
In addition to these unique takes on some of the most popular songs around, this compilation also features classic Live Lounge session tracks such as Foo Fighters 'Times Like These', Adele 'Chasing Pavements', Rihanna 'Hate That I Love You', Lady GaGa 'Poker Face', Biffy Clyro 'Many Of Horror' and Black Eyed Peas 'Boom Boom Pow', all recorded exclusively for the Live Lounge.
The Best of BBC Radio 1's Live Lounge is released 6 June 2011 on Sony Music