ALEXANDER TUCKER music video for "His Arm Has Grown Long"
aaamusic | On 21, May 2011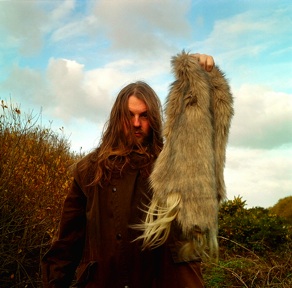 ALEXANDER TUCKER
music video for "His Arm Has Grown Long"
Alexander Tucker – His Arm Has Grown Long from Thrill Jockey Records on Vimeo.
TOUR DATES
26 May – Servant's Jazz Quarters, London (as Imbogodom)
2 June – Cafe Oto, London, UK (with Aethenor)
17 June – Servant's Jazz Quarters, London (as Imbogodom)
11 June – Cube Cinema, Bristol, UK
19 June – Monarch, Berlin, DE w/ Wooden Wand
21 June – Nurnberg, DE
As he embarks on some live shows in the UK and Germany, Alexander Tucker reveals his Yeti alter-ego in this video for "His Arm Has Grown Long" from his recently released, critically acclaimed album Dorwytch. Feel free to post! http://vimeo.com/21839464
British experimental musician Alexander Tucker released his Thrill Jockey debut DORWYTCH in April 2011. This record breaks new ground for Tucker by combining minimalist string arrangements with electronic manipulations and drones to produce doom chamber-pop songs and psychedelic music-concrete collages.
He also plays shows under the name Imbogodom, which began as a sound-collage project with New Zealand's Daniel Beban but Tucker has adapted this into his solo act for when they can't play together. The Metallic Year was released on Thrill Jockey last year made by mutual friends in sound exploration, this Trans-Atlantic duo create other-worldly transmissions where improvisation gives way to mutated song forms and intricate soundscapes.
"Best known for mangling his cello with pedals, Tucker's new album sees him taking his most focused approach yet, creating eddying psychedelia that calls to mind thunderclouds building over an English meadow in the summer." NME
"… melds churning string arrangements with electronic drones and finger-picked guitar to underscore a procession of Stygian, Alan Moore-inspired psych pop songs." Mojo
"A relatively still surface daring you to dive in, its sharp, cold depth containing bindweed, or maybe worse… things that threaten to drag you under, away from the surface beauty into a totally different, forbidding world…. A great, grand album." The Quietus
"… a wonderfully executed songcycle rooted in folk but skewed by droning electronica and minimal string arrangements. Weirdly brilliant." The Sun