Milk Maid 'Yucca' out June 20th + UK Tour Dates
aaamusic | On 22, May 2011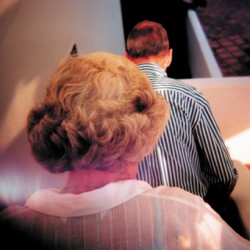 Recorded in songwriter Martin Cohen's flat, when the indefinite hiatus of Nine Black Alps meant the bassist found he had time on his hands, Milk Maid's debut album 'Yucca', released on the 20th of June, is the sound of an artist moving out of the shadows of the rhythm section and delighting in the freedom of doing things his way. The result is an album that might have come out on Creation Records in their 80's heyday, recalling indie stalwarts like Comet Gain and marrying timeless pop hooks with the raw spontaneity of home recording. Sweet, sun-drenched pop hooks are pitched against viscerally dark lyrics that explore disintegrating relationships and emotional conflict to a backdrop of Cohen's Manchester hometown.
These head swimming juxtapositions are apparent thirty seconds into 'Yucca' as the innocently titled opener 'Such Fun' breaks in to it's second verse and Cohen sings 'I know a man who'll cut your throat out for a buck or two' over an instantly hummable melody. What follows is a Vaselines-esque chorus, taking the inane lyrics to Status Quo's 'Round and Round' and filling them with a Swell-like menace, delivered with the fatalistic sigh of Kurt Cobain. Later in the album on 'Dead Wrong', Cohen sings 'You're killing yourself to cut your arms off, you're stabbing yourself in the gut' and it still manages to sound like a lost Buddy Holly song (albeit with the production values of a Sic Alps track!).
This meshing of light and dark could sound forced in less capable hands, but the calm authority that Cohen wields over his songs is remarkable considering that the tracks contained on 'Yucca' represent his first forays in to song writing. Jack Cooper, member of fellow FatCat band Mazes, and the man behind Suffering Jukebox, summed it up in the press release for the 'Such Fun/ Can't You See' 7" when he compared Milk Maid to Guided By Voices for their "laissez faire approach to recording solid gold melodies; throwing songs away most bands would kill for with a swooning arrogance." It is this element that has seen Cohen branded with the 'slacker' tag and compared to artists such as Kurt Vile and Woods. But whilst Milk Maid wouldn't sound out of place on the Woodsist label, 'Yucca' shuns the psychedelic instrumental jams of those bands in favour of pop songs.
The sense that Milk Maid look beyond what is immediately around them for inspiration is most clear on songs such as 'Girl', a heartfelt reflection on lost love that wouldn't sound out of place on 'The Graduate' soundtrack; the warmth of the home recording adding a layer of intimacy, whilst the reverb-soaked guitar lick in the chorus conveys a longing that couldn't be expressed in words. Lead single 'Not Me' and 49 second 'Kill Me Again' are typical of the albums easy élan, with 60's girl group melodies, reminiscent of The Crystals sitting amongst Jesus And Mary Chain-like fuzz and choppy John Densmore-esque drums.
Indeed Cohen's willingness to push the boundaries of what would usually be found in a three minute pop song with his lyrics, instrumentation and production is perhaps 'Yucca's defining feature. These elements combine to startling effect on the sprawling 'Back Of Your Knees', featuring troubling impressionistic lyrics, a stunning melody, Chris Brokaw-style guitar histrionics soaring above the chorus, and production that maintains the balance between tension and release. Considering how new Cohen is to production and song writing, it is exciting to think about the possibilities of where Milk Maid can go next. An intense live act, Milk Maid will be touring extensively in support of the album.
Live dates:
May 22st – Friends Of Mine Festival, Macclesfield
June 11th – Glasgow, Captain's Rest
Jun 15th – Brighton, Jam
June 16th – London, Shacklewell Arms
June 17th – Manchester, Soup Kitchen
July 23rd – Tramlines Festival, Sheffield
http://www.myspace.com/milkmaidmilkmaid/
http://sufferingjukebox.bigcartel.com/
http://sufferingjukeboxrecords.tumblr.com/