ANA LOLA ROMAN Jigsaw/Klutch Released 20th June 2011
aaamusic | On 24, May 2011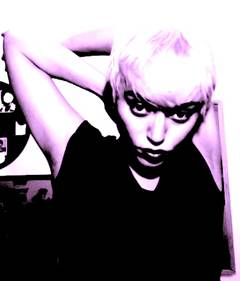 "Much like Laurie Anderson, Danielle Dax, Gang Gang Dance and Rainbow Arabia with an eerie piano/synth and quivering vocal melodies, this performance artist, singer, multi-instrumentalist, whatever you want to call her, always delivers the unexpected….."
IN MADRID MAGAZINE, Madrid, Spain
"Ana Lola Roman is a Brooklyn synth-pop gem by way of Oklahoma who frequently pops up in Baltimore and Berlin, leaving a trail of lavishly strange dance performances and videos wherever she travels."
Mishka Bloglin – NYC
Ana Lola Roman is a true renaissance woman; she is at once a songstress, a video artist and an incredibly charismatic performer. Her new AA single Jigsaw / Klutch is no less eclectic  combining a dark meditate soundscape with intelligent social commentary that never veers away from being utterly danceable; she sings 'Men with guns, storming in.
I never really asked for this'. Jigsaw/ Klutch is set for release on the 20th June 2011.
The single was recorded and co-produced in NYC with visionary producer and computer game composer Jean Luc Sinclair (Nine Inch Nails, Scissor Sisters). Jigsawsounds almost tribal as Roman contrasts a hypnotic early nineties riff with a torch song-esque chorus, dissolving into a final emotive cry that prompts reaction or change in the listener, 'They taped my mouth red', she sings. She borrows from contemporary classical music and New York minimalism combining a fragile, world-weary almost performance poet tone with the howlings of a later day prophet as she asks us to 'Go ahead and name your price. And think twice'.
Klutch continues in a similarly intense vein blending Fleetwood Mac-esque guitars with a cinematic piano riff, as her voice churns and chants like a mature Siobhan Fahey.
This is innovative, intelligent pop; and Ana Lola Roman appears as enigmatic as an early Madonna with her slicked down hair and attention grabbing moves.
Ana Lola Roman's first full length album is scheduled for release later in 2011.  Expect new live performances once Ana's intensive recording sessions give way for touring and public appearances. Jigsaw/ Klutch is set for release on 20th June 2011.
For Music and Live Dates check: www.analolaroman.com