Chibuku Shake Shake Summer Closing Party Saturday 4th June @ The Masque, Liverpool
aaamusic | On 25, May 2011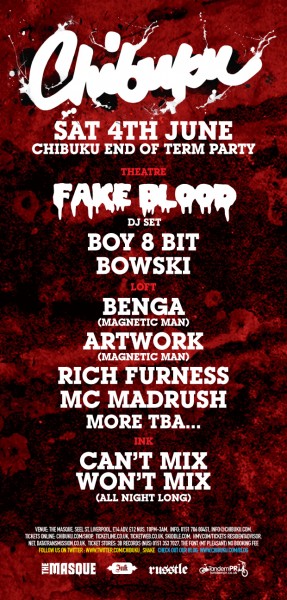 Chibuku is shutting its doors for the summer at the end of what has been another phenomenally successful stint. Now in its eleventh year, Chibuku traditionally slows down whilst festivals and Ibiza becomes the focus as a means of regrouping after a frenetic few months at the helm of UK clubbing. The closing soiree is usually a bit special; however this time the club has really pulled out something special.
The Theatre is a humdinger and a visceral statement of intent with Chibuku installing perennial party smasher Fake Blood alongside Boy8bit and Bowski. Theo Keating is dance music's chameleon, who hit the top of the charts with big beat and the Wiseguys, forged a successful career as DJ Touché in the electro and techno fields and married erstwhile song writing and gut wrenching beats alongside Simian's Simon Lord in the Black Ghosts before his Fake Blood project came underway.
Rejecting all the privileges his previous fame afforded him when starting out, Theo knocked out a slew of dancefloor bombs which were shrouded in secrecy and masked in anonymity, slowly going from unknown quantity to internet sensation. And the interest didn't yield once his identity was revealed; with his instantly recognisable 'I think I Like It' smashing festival arenas and daytime radio playlists with deft ease and the Fake Blood road show headlining clubs across the globe.
Support comes in the shape of analogue supremo Boy8bit and super-hot producer Bowski. Boy8bit's musical musings have all come off old school computers, a gloriously retro take which has resulted in the charm and warmth running through obviously electronic creations; an injection of personality into the machines. Jack Beats, comprising of DMC champions Plus One and Benny G (of the Scratch Perverts and Mixologists respectively), blend hip-hop technical prowess with the speaker shredding ideals of underground dance music; crafting furious ensembles of pure dancefloor fire.
The Loft is no less rowdy, headlined by the indomitable Benga. A third of the monolithic dubstep supergroup Magnetic Man, Benga has been one of the main proponents in dubstep's' explosion from the council estates of Croydon to the nation's number one dance music. A champion of all the ever mutating elements of bass music, Benga's sound remains intricate and epic at the same time, a nagging subtleness underpinning the unmistakeable heaviness that permeates from each of his savage grooves.
He's joined by Magnetic Man cohort Artwork. Whilst Benga and MM compatriot Skream hog the limelight, Artwork is the group's central pulse (it is his computer which oversees the other two's during live performance) and remains a hugely respected artist in his own right  who has played a pivotal role in the genre's steady development. Chibuku's hugely versatile resident Rich Furness supports.
Ink sees the first all night turn of local loons and musical mavericks CMWMSMDM. The MixNots are dance music's happy accident, the bastard child of experimentation which has resulted in a troupe with seemingly no musical expertise somehow develop into party rocking warriors. Festival experts (they've graced Standon Calling and Creamfields for three consecutive years and rocked Malawi's Lake of Stars Festival), their unpredictability, gloriously eclectic music choice and boundless enthusiasm have made them a local and now national phenomenon; believe the hype: www.mixnot.net
The Full Line-up
Chibuku – Summer Closing Party
Saturday 4th June
@ The Masque, 90 Seel Street, Liverpool, L1 4BH
The Theatre
Fake Blood
Boy8bit
Bowski
The Loft
Benga
Artwork
Rich Furness
INK
CMWMSMDM
£15 / £13
10pm – 3am
Info – 0151 706 8045
Tickets:
www.chibuku.com/shop
www.datatransmission.co.uk/chibuku
www.skiddle.com
TicketWeb: 08444 771 000
Ticketline: 0161 832 1111
3B records: 0151 353 7027