Promo Album – Elizabeth 'HAZARDS HORRORS AND LIABILITIES'
aaamusic | On 26, May 2011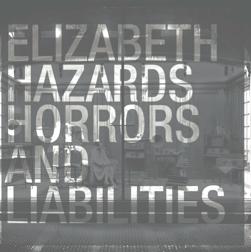 "Elizabeth are causing a stir in Vancouver, and if support slots with Franz Ferdinand and Hot Hot Heat are anything to go by they wont be a secret for long. They sound similar to Interpol, while singer Reggies voice is a little Strokesy"
– KATE O FLAHERTY (NME)
ELIZABETH
HAZARDS
HORRORS
AND LIABILITIES
UK Album Rel Date: AUGUST 1ST 2011 / Label: Red Coat Record Company
ELIZABETH – HAZARDS HORRORS AND LIABILITIES – ALBUM SAMPLER by vision music promotions
HAZARDS, HORRORS AND LIABILITIES is the title of the follow up to ELIZABETH's debut album FIRST EXCOMMUNICATIONS, which gave us our first glimpse of the Vancouver quartet's unabashed embrace of English songwriting and vocal rejection of the trendy trappings of contemporary indie dogma.
The band's kinetic sound and take no prisoners live show has placed them onstage alongside the likes of The Temper Trap, The Cribs w/ Johnny Marr, British Sea Power, The Raveonettes, Arctic Monkeys, The Libertines, Franz Ferdinand, Metric, Les Savy Fav, TV on The Radio, The Organ, Hot Hot Heat and Death From Above 1979.
Having spent the bulk of 2009 writing material for the next album, much of 2010 was dedicated to recording at the legendary WAREHOUSE STUDIO in Vancouver, where ERIC MOSHER committed the band to tape. The album was recorded on one of three Neve consoles custom made for George Martin and used by The Sex Pistols to record Never Mind The Bollocks.
HAZARDS, HORRORS AND LIABILITIES is a love letter to the music of the band's formative years. We're not sure what that means exactly but we look forward to finding out. Hazards, Horrors And Liabilities……
Tracklisting:
1. First Excommunications
2. Columns And Arrows
3. Death Of Plato
4. P.O.U.M.
5. Quintum Novembris
6. Cassius Clay
7. Empire
8. Bleeding Hearts/Things Become Extinct
9. Radiowave Blockade
10. These Lines Are Drawn In Black
11. Cataclysm Rock
12. Beggar With A Bullet
13. Disco Tehran
ELIZABETH are:
Reggie Gill – Vox/Guitar
Paul Gill – Drums
Davor Katinic – Guitar
Rory O'Sullivan – Bass