AAA Music Meets Buckcherry
aaamusic | On 27, May 2011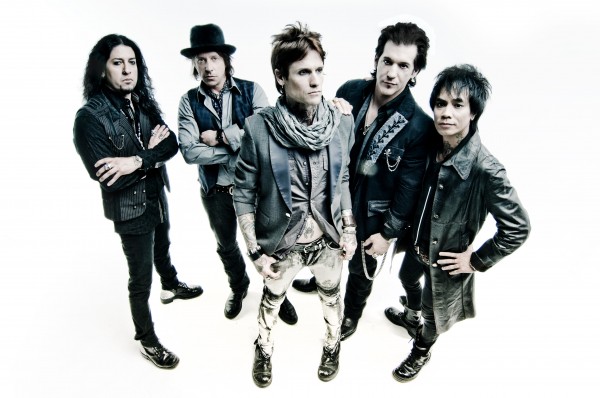 AAAMusic chatted with Josh Todd from Buckcherry…
AAAMusic : Hello: You are currently on tour. How is it going?
Josh Todd: Yes we are in Guadalajara right now for the first time.  Just left South America; we played Brazil, Chile, and Argentina for the first time.  The shows were incredible, very passionate fans.
AAAMusic : Do you reckon that here in Europe you have found the same atmosphere as in the States?
JT: We approach every show the same no matter where we are in the world. We just want to destroy the place and leave them wanting more.  In Europe, they really appreciate the energy that a BC show brings.  I think it's refreshing for them because they haven't seen a lot of us.
AAAMusic : What is the experience at the Golden Gods for Metal Hammer going to be like?
JT: It's only 3 songs so I hope everyone digs it.  Playing in front of a place full of guys you admire can be stressful though.
AAAMusic : Since "All Night Long" has been released on your last tours you shared the stage with bands like Disturbed, Mötley Crüe, Papa Roach, Nickelback among the others. Which band do you think you have more aspects in common with?
JT: I would say Papa Roach; although we have different styles of rock, we started at the same time and whenever we play together they really bring out the best in us. They have great songs and are great live, and nice people as well.
AAAMusic : What is your opinion about festivals and co-tours? (i.e. Taste of Chaos) Sometimes fans complain about short set-lists and time limits. What is your opinion on this?
JT: Festivals are great because you get in front of lots of people but the down side is shorter sets.
AAAMusic : During your last tours, which emerging band impressed you the most and why.
JT: I really like Taddy Porter, they play soulful rock and roll with no tracks running.  They're the real deal, and you truly get a sense that they're a gang and love what they're doing, and that's special.
AAAMusic : Based on the titles of two of your songs "All night long" and "It's a party", what expectations can a fan have attending one of your gig?
JT: Well, we like to host the party every night.  We didn't reinvent the wheel, but we want people to get wild and loose and forget about their lives for a while and hopefully get laid after the show.
AAAMusic : What kind of music do Buckcherry listen to when they are on tour? Any suggestions?
JT: We listen to a lot of AC/DC, Rage Against the Machine, Aerosmith, James Brown, N.W.A., Fleetwood Mac, The Rolling Stones, Prince, Stevie Wonder.
AAAMusic : Buckcherry formed in 1995. What changes have you experienced in the rock scenario during your career?
JT: Nothing's really changed. We stick to our guns and that's what people love and hate about us.  We're always trying to find that song that's going to change our lives, and make great records from top to bottom.
AAAMusic : What would you suggest to new rock bands in order to keep the interest in rock music high amongst young people?
BC: Just be honest with your art, put in the work, and stay out of the results and everything will be fine.
AAAMusic : Buckcherry released a song called "Our World" in aid of the BP disaster in the Gulf of Mexico. You were also supposed to play for the troops in Iraq. Do you think musicians have some sort of duty beyond music?
JT: I don't know about that, I just think when you get older you become more aware, and that's really it.
AAAMusic : Are you planning to go to the studio after the tour? Any releases? If so, what can we expect from the next album?
JT: We have already started the writing process.  It's going to be a cool record and will be released next year sometime.
AAAMusic : Finally, can you explain the meaning of one of your greatest songs, "Rescue Me"?
JT: I was on vacation, and my oldest daughter turned me on to this book called "A Child Called It" I became obsessed with this book and we wrote two songs inspired by it: Rescue Me, and A Child Called It.
Author:Luca Viola