Arch Enemy – Khaos Legions
aaamusic | On 29, May 2011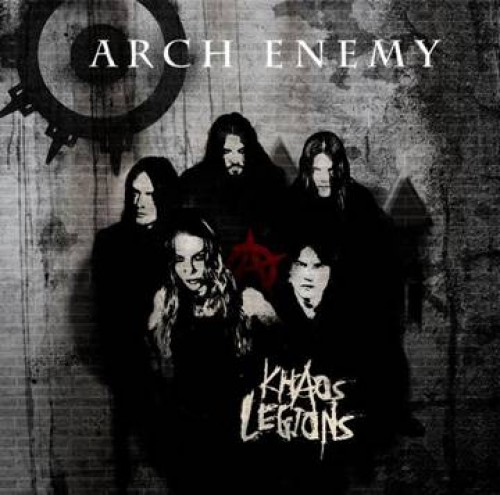 I may be betraying the deep feminist cause here, but I tend to be somewhat cautious when approaching female-fronted metal because these days it seems to fall into either one of two camps: operatic Evanescence style moping, or… not. And thankfully, Arch Enemy are very much in the latter, eschewing any angsty goth-queen posing for a style that is equally Ludicra and Pantera.
Right from the frenetic build of 'Khaos Overture' with its seething fretwork leading to the doom-laden spoken word introduction, we are left with no doubt that 'Khaos Legions' is going to be one hell of a ride, and 'Yesterday Is Dead And Gone' throws you right in at the deep end, churning bass and razorblade-keen dual guitars building a sonic force to be reckoned with, as the metal drumming is pitched with rumbling finesse, and some startling vocal power from vocalist Angela Gossow, who sports some of the finest female black metal snarling this side of Ludicra. Finishing with a great solo section and some demonic riffing before the final chorus, this is a taut and mesmerising way to kick off. 'Bloodstained Cross' refuses to let us slow the pace any, ramping it all up to 11 and plunging us down below Hell's basement. Erlandsson's superpowered drumming would put an army of lesser percussionists to shame as he seems to hit everything all at once and in time without a single beat feeling at all superfluous, and the opening of claustrophobic verse tremolo to a flourishing yet malicious chorus is masterful, as is the baroque midsection. 'No Gods, No Masters' is another exemplar cut of ornate savagery, harsh yet with a true sensibility and musicality. The bass/drums interplay possibly outshines the guitars even, and the vocals are delivered with vitality and full commanding authority that you can't help but give full attention to.
'Under Black Flags We March', with its pick-scrape opening and bass groove that could outdo Iron Maiden playing a pneumatic drill, is a glacial beast of Norwegian proportions, but keeping at its heart the finer side of abrasion. Yes, the vocals are terrifying to behold at times and the band sound like the best orchestra of feral wolves to hit our speakers, but they are by no means short of talent, blending hell with heavy bliss in their musicianship.
'Through The Eyes Of A Raven' may well be the standout track: five rock-solid minutes of pure metal, an uncompromising unleashing of furies that pounds at the soul as well as the ears, but without giving up an aesthetic sense that allows some exhilarating melodic thrills amongst the tumultuous storm of sound, as Gossow's snarls once again come into their own, both decipherable yet bordering on the totally inhuman. This whole thing breaks into what can only be described as a feral ravishing of your eardrums with an obscene bassy swagger and awesome power.
The instrumental 'We Are Godless Entity' provides a great centrepiece of the album, with bleak tones and spine-tingling atmosphere, a building-up and recuperation before the no-holds-barred intensity of 'Cult Of Chaos', a track that fully lives up to its name as it smashes headfirst into every barrier on what should be humanly possible to play (even for metalheads) and doesn't even flinch. Sheer momentum carries what will surely see a few well-deserved moshpit casualties in the live arena. "There are many ways to die, but only one way to live" never held so much awe-inspiring force. 'Thorns In My Flesh' only ramps up the band into considerable overdrive, sprawling choruses and dense verses all given equal treatment and passion.
Closing twosome 'Vengeance Is Mine' and 'Secrets' are a perfect couple, the former a consummation of all the savagery of Arch Enemy, and the latter being one of the most open songs of this style I have ever cast ear upon – cutting no corners and giving no leeway to the uninitiated, the band have hit the grail of artistic expression and metal distilled to caustic purity.
If you like short songs, or indeed songwriting as is generally recognised, 'Khaos Legions' will likely as not fly totally over your head. But for those looking to expand their horizons, this is a stellar cut of metal, relentless in its onslaught yet never succumbing to the perverse bloody-mindedness of many similar bands to craft the unlistenable. This, my friends, is top-drawer stuff.
Author: Katie H-Halinski