Jeff Magnum London Shows + Low, Boredoms, The Fall & more confirmed for ATP Festival
aaamusic | On 01, Jun 2011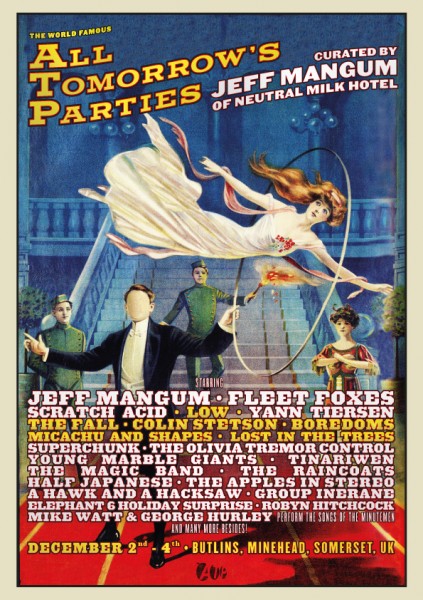 New bands announced for ATP Curated by Jeff Mangum – December 2011
Two Rare London headline shows also confirmed!
Low, Boredoms, The Fall & more confirmed for
ATP curated by Jeff Mangum (Neutral Milk Hotel)
2nd-4th December 2011 at Butlins Holiday Centre, Minehead
+ Two London headline shows confirmed
For Press Festival Accreditation please email press@atpfestival.com
For Print & Online press enquiries please email woody@atpfestival.com
ATP Concerts are very excited to present the return of Neutral Milk Hotel's Jeff Mangum to headline and curate our first of two festival weekends this December at Butlins, Minehead.
Today we can confirm new addition to the festival (see below), and also two rare London shows after the festival at the Union Chapel on December 8th and 9th. Tickets priced at £25 per person (subject to booking fee) go on sale today Wednesday 1st May from 12pm via www.atpfestival.com. Tickets will be sold through the ATP site and Seetickets.com and are limited to 4 per person. Along with the ATP festival, these will be Jeff's only UK & mainland Europe appearances in 2011!
Tickets are selling fast for the ATP Festival Event with 2 and 3 person apartments now sold out and 4-7 person apartments currently still available. Today we can confirm a third astounding group of artists picked by Jeff:
BOREDOMS
LOW
THE FALL
COLIN STETSON
MICACHU AND THE SHAPES
LOST IN THE TREES
In 2011 the legendary Boredoms have been recording a new album. Their performance will be very rare and entirely new to the UK. Eye will play a sensor from the center of the drummers, less a conductor and more the nexus of an energy orb. Music and performance are intertwined and for the boredoms it is a living and breathing whole. A being, greater than the some of it's parts, and ever evolving. Join the experience and be part of the evolution. It will change how you listen to and how you see music and musical performance.
The line-up so far for the event now looks like this…
Jeff Mangum (from Neutral Milk Hotel) / Fleet Foxes / Boredoms / Low / The Fall / Superchunk / The Olivia Tremor Control / Mike Watt & George Hurley perform the songs of the MINUTEMEN / Robyn Hitchcock performs I Often Dream Of Trains / Group Inerane / Scratch Acid / Young Marble Giants / The Magic Band / The Raincoats performing The Raincoats (debut LP) / A Hawk And A Hacksaw performing a new and original soundtrack to Shadows Of Forgotten Ancestors / Yann Tiersen / Elephant 6 Holiday Surprise / Half Japanese / Tinariwen / The Apples In Stereo / Colin Stetson / Micachu And The Shapes / Lost In The Trees
…with much much more to be announced! All tickets include accommodation in private apartments for you and your friends, see our website for more details.
Tickets for ATP Curated by Jeff Mangum are priced at £170.00pp for room only and £180.00pp for self catering and are on sale now via www.atpfestival.com
ABOUT THE VENUE
Butlins, Minehead looks out across a superb sandy beach. The site is equipped with a supermarket, newsagent, cash points and restaurants. Onsite facilities include a cinema, Splash Water World – a sub-tropical environment that has a huge wave pool, a swimming pool, 3 flumes and also a flume based raft ride – Ten-pin bowling and amusement arcade. Sports include Archery, Football, Basketball, Darts, Petanque, Fencing, Kwik Cricket, Netball, Rounders, Table Tennis, Outdoor Bowls and Crazy Golf.
Under 18s are welcome at ATP if accompanied, please see the FAQ section of our website for more details. Young children and babies are also welcome at ATP, full information is on our website FAQ.
Room Only accommodation is available in 2, 3, 4, 5 and 6 berths and offers either double, single or bunk beds with private bathroom and TV, but no kitchen facilities or lounge, more like a hotel room. (£170 + booking fee per ticket per person)
Self Catering accommodation is available in 4, 6 and 7 berths and offers private bathroom, full kitchen facilities and separate lounge area with TV. (£180 + booking fee per ticket per person)
ABOUT ALL TOMORROW'S PARTIES
All Tomorrow's Parties has been promoting festivals and concerts throughout the world for the last ten years. It was founded in the wake of Belle and Sebastian's Bowlie Weekender, with Mogwai curating in the unusual setting of Pontins Holiday Camp, Camber Sands. Since then the festival has appeared every year and has expanded across the globe continuing to set itself apart from large scale corporate festivals by staying intimate and fan-friendly. The line-ups are chosen by significant bands or artists which results in eclectic events that combine performances by legendary and influential acts with appearances by the latest crop of experimental artists from any (and every) musical genre. The festival has become more successful with every passing year, and ATP events have taken place in the UK, USA, Europe and Australia, with past curators including Nick Cave & The Bad Seeds, Mike Patton, My Bloody Valentine, Portishead, Sonic Youth, Slint, and Tortoise. This year ATP launched a new series of curated city-based events called I'll Be Your Mirror which started in Tokyo in February, and continues in London in July and Asbury Park, New Jersey in September.
For ten years ATP has set itself apart from other festivals by embracing seemingly disparate artistic genres, with events featuring art exhibitions, cinema programmes, spoken word performances and stand up comedy. It's been called 'Unforgettable' by Spin and 'the most enjoyable festival experience of our reporter's life' by Pitchfork. It has spawned an acclaimed concert series (Don't Look Back), a record label (ATP Recordings), and the release of a feature length documentary about the festivals from Warp X, titled All Tomorrow's Parties, out now on DVD.